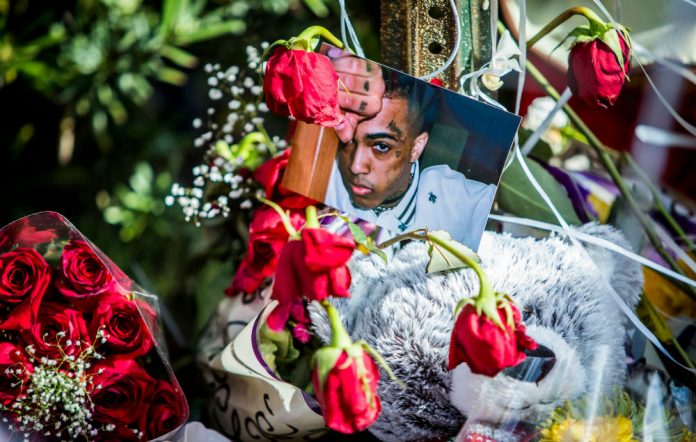 [ad_1]

Geneva Ayala said she was "absolutely devastated", and claimed that some of the items she left at the vigil had been burned by his fans
XXXTentacion's ex-girlfriend Geneva Ayala has claimed that she was "kicked out" of a memorial to the rapper in his home state of Florida this week.
The rapper – born Jahseh Dwayne Onfroy – was shot and killed in an apparent robbery on Monday (June 18). A lawyer for the late artist has said that investigators believe that he was targeted at random, with two Florida-based rappers – Soldier Kidd and Soldier JoJo – having been forced to deny any involvement in the murder.
Ayala said that she was forcibly removed from a memorial to the slain rapper in Florida, claiming on Instagram that she was "kicked out" of the vigil after she left items including a globe and flowers at the site.
"They kicked me out of the vigil. So damn disrespectful. I can't believe people are that selfish," she wrote in the now-deleted caption to the above image on Tuesday (June 19). "I wasn't even there 25 minutes and I literally got pulled away from the memorial.
"I just wanted to stay. I wasn't bothering anyone. This is unfair. I'm absolutely devastated," she added, before claiming that people at the vigil had burned the items she left in memory of the rapper.
"I left those things for him. I didn't bother anyone. I said nothing to no one. I can't believe they'd do that," she wrote. "I can't believe they'd do that. How did they let that happen. Why would anyone let that happen, where is the respect?"
Ayala had previously accused XXXTentacion of domestic abuse, and the rapper was facing trial on charges including aggravated battery of a pregnant woman and domestic battery by strangulation at the time of his death. Since his death, a GoFundMe page set up by Ayala to fund her medical bills has seen a spike in donations.
Meanwhile, a "charity event" that the rapper was intending to put on prior to his death will still go ahead this weekend, according to his mother.
[ad_2]