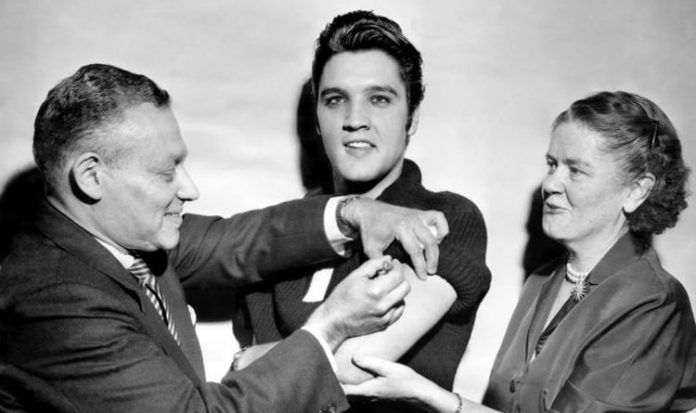 During the 1950s America was being ravaged by the polio virus. At its peak in the 1940s and into the 1950s more than 500,000 people were killed from the preventable disease. By 1956 Elvis Presley was on his way to becoming a household name. The star had recently become a big hit with his track Heartbreak Hotel reaching number one across America, making him the perfect celebrity to endorse the newly-created vaccine.
On October 28, 1956, Elvis appeared on the most popular TV show in the country – The Ed Sullivan Show.
Although he was scheduled to perform live, he first spoke over a short film which showed some children sick with polio.
Elvis announced: "Hey kids, could I talk to you for about 30 seconds? This is Elvis Presley.
"If you think polio is beaten I'd ask you to listen to me… Now, that's the voice of thousands who know the fight against polio is just as tough as it ever was."
After detailing the struggles against the vaccine prices, Elvis supported a forthcoming fundraiser for kids' vaccines.
READ MORE: Elvis Presley 'had a crush' on co-star Mary Tyler Moore
The movie was a runaway success, grossing $4.5 million at the box office and catapulting his career into Hollywood and acting.
Dolly Parton recently followed in Elvis' footsteps when she posted her coronavirus vaccination on her Twitter account this week.
The singer showed off just how easy it was to receive the jab while singing her hit song Jolene.
The star did remix the song, however replacing "Jolene" with "vaccine".
The 75-year-old also hit out at those who have decided against getting the vaccination.
The Grammy Award winning singer said: "I just want to say to all of you cowards out there – don't be such a chicken squat. Get out there and get your shot!"
She also said: "I'm dead serious about the vaccine. I think we all want to get back to normal, whatever that is.
"And that would be a great shot in the arm, wouldn't it, if we could get back to that?"
SOURCE