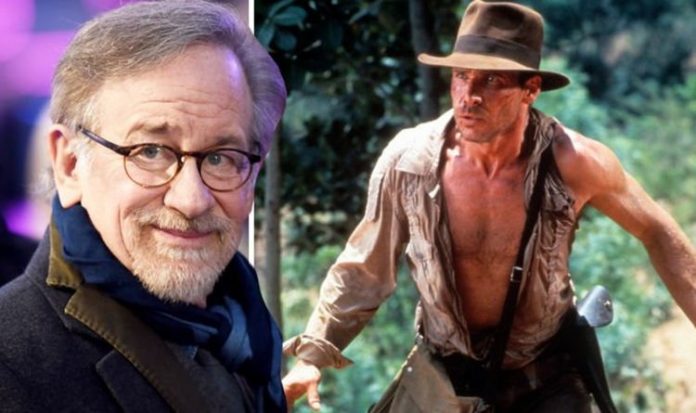 Harrison Ford will play Indiana Jones once again in the upcoming fifth movie. Not a lot of information has been given about what is going to happen in the film, but one thing is for sure: it will tell the final chapter of Indie's story. Spielberg bowed out of working on the film last year during preproduction. The legendary director helmed all of the previous movies alongside George Lucas and Ford. Writer for the Indie movies Koepp recently spoke up about what made Spielberg step down.
Speaking to Den of Geek, Koepp said: "I tried a couple different versions with Steven and they all had some good stuff about them and they all had some stuff that didn't work, which happens.
"But it was just very hard to have everybody come together and have all the elements – Steven, Harrison, the script and Disney – come together at once. And it didn't."
The fact that these four key elements would not work together as intended, Koepp said, is why Spielberg thought it best to step down from his position in the movie.
In December of 2020 president of Lucasfilm, Kathleen Kennedy, announced James Mangold would be taking over from Spielberg.
READ MORE: Indiana Jones: Steven Spielberg's 'fears about Harrison Ford return'
Koepp went on: "When James Mangold came in and Steven stepped out, that was a pretty logical breaking point.
"It's a gracious time to step out the door because I think the last thing a new director wants is the old director's writer. I mean, that's a drag.
"The last thing you need is some guy sitting around with his arms folded saying: 'Well, the way Steven would have done it is…'
"I had one nice friendly conversation with him and then I'm sure he wanted to be able to move on anyway. Everybody was pretty polite, I thought."
It is not surprising Spielberg stepped down from the project considering he had some reservations about returning in 2008 for The Kingdom of the Crystal Skull.
While promoting the film, Spielberg said: "Harrison had the same problem I had.
"He's spoken the words of so many different writers, and he's been involved in so many different genres in 18 years, that we both wondered if we were going to be able to go back home together and be who we were.
"I mean, we're both older – and we both look a bit older, I think, certainly – but at the same time Harrison needed to recapture the caustic, laconic spirit of Dr Jones."
Spielberg did go on to praise Ford for his performance in the film, however, adding: "And, certainly, [Ford] was going to have to manage the action. And he did both of those things amazingly well, far beyond what I expected.
"He just did it so brilliantly and so effortlessly. He was just a little more out of breath after every stunt, just a little more, and so was I."
Last month website Pirates and Princesses reported Indiana Jones 5 would focus on Indie tracking down the Fountain of Youth.
The report also said Indie would drink from the fountain and be replaced by a younger, CGI-version of Harrison Ford for a portion of the film.
Indiana Jones 5 is due for release on July 29, 2022.
SOURCE