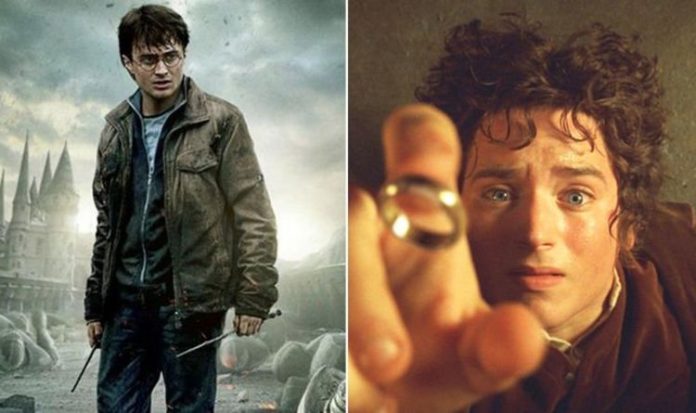 Tomorrow marks World Book Day and to celebrate a new poll of 2000 Brits was taken last month to discover the UK's favourite movie adaptations of books. It probably won't come as a surprise to some that the Harry Potter movie franchise came out on top with 31 per of the vote. There have been eight films based on JK Rowling's seven Harry Potter books, plus two of five Fantastic Beasts prequels so far.
The Wizarding World franchise managed to top Peter Jackson's adaptations of JRR Tolkien's The Lord of the Rings and The Hobbit trilogies.
Both franchises are owned by Warner Bros and celebrate their 20th anniversaries this year, having debuted in late 2001.
In fact, Frodo actor Elijah Wood and Harry Potter star Daniel Radcliffe recently gave a shared interview to Empire magazine in celebration of their fantasy films.
Here are the full Top 10 of the UK's favourite movie adaptations of books:
READ MORE: Which are the WORST book adaptations ever? Fans reveal SHOCK result
Interestingly, almost half of UK males claimed they didn't have a favourite romantic movie.
While 43 per cent of Brits admitted they were more likely to watch a movie than read a book (29 per cent). Although, 23 per cent felt they enjoyed both pastimes in equal measure.
Mark Barlow, UK General Manager for Showcase Cinemas, said: "Books are hugely important to the movie industry; without great novels, the movies mentioned would never have been created for the world to enjoy on the big screen. 
"While a great book brings those incredible stories to life; films take those stories and turn them into a feast for the eyes and ears. The magic of books and films can make us laugh, cry, scream and fall in love."
Barlow said that he feels there's no better place to watch books come to life than on the big screen, the way movies were meant to be seen.
He added: "There were so many incredible books that could have been chosen as the best movie adaptation but it is great to see Harry Potter top that list – its evergreen popularity is testament to its enduring appeal across multiple generations as both a book and a movie.  
"We are looking forward to reopening our doors to guests as soon as the government allow us to – currently scheduled for 17 May in England – with all our cinemas operating the Be Showcase Safe programme that we successfully introduced last year."
Fingers crossed Brits across the UK will be back enjoying the latest movie releases in May then.