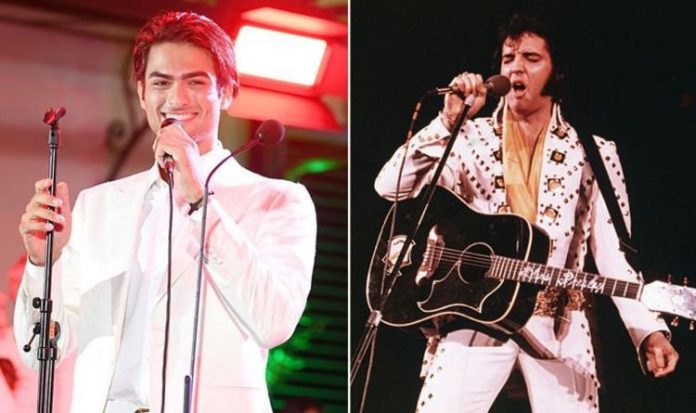 Andrea Bocelli has covered a couple of Elvis Presley tracks in recent years, including Can't Help Falling In Love and Love Me Tender. But did you know his son Matteo Bocelli has also shared his takes on The King's classics too? Captured three years ago, the young singer gives a stunning performance in the video below.
Elvis fans will know Love Me Tender as one of The King's first big hits and that it was also the title of his acting debut in the 1956 movie of the same name.
Love Me Tender's lyrics are credited to both Elvis and Ken Darby under the pseudonym of Vera Matson, the name of the latter's wife.
While the melody is adapted from an American Civil War Ballard called Aura Lee.
Elvis famously performed Love Me Tender on The Ed Sullivan Show on September 9, 1956 before its release. Matteo Bocelli has also song Elvis' Blue Hawaii movie hit Can't Help Falling In Love.
READ MORE: Andrea Bocelli performs Elvis Presley's Love Me Tender live – WATCH
The 23-year-old sung The King's classic track in a duet with Nuška Drašček for a television concert inside Slovenia's Postojna Cave.
The melody for Can't Help Falling In Love is similarly historic being based on Plaisir d'amour; a well known French love song composed in 1784 by Jean-Paul-Égide Martini.
More recently, Matteo has shared a cover of Justin Bieber's Holy on his Instagram.
Accompanying the video, he wrote: "Holy (Acoustic) by @justinbieber. The first time I heard this song I fell in love with it on the spot. Here's my version of "Holy" (Acoustic) by @justinbieber I hope you like it too…"
In a YouTube Q&A last year, Matteo teased: "We're composing a lot of songs that we hope to share with you very soon. I'm writing a lot of new music."
But it's not just the 23-year-old who is following in his father's footsteps, with sister Virginia having recently performed live with Andrea.
The 8-year-old sang Leonard Cohen's Hallelujah with her father for his live-streamed Believe in Christmas concert last year.
Around the time, Express.co.uk asked the 62-year-old if a family album was now in the works considering the talent and popularity surrounding his children.
Andrea replied: "It's not a consideration at the moment. But… never say never."
While on singing with Matteo in lockdown he added: "It happens a lot, yes. Matteo hasn't been with us lately, as he has spent a few weeks working in Australia.
"He is just back and we're definitely planning to make up for lost time."
Andrea Bocelli's new album Believe is out now.