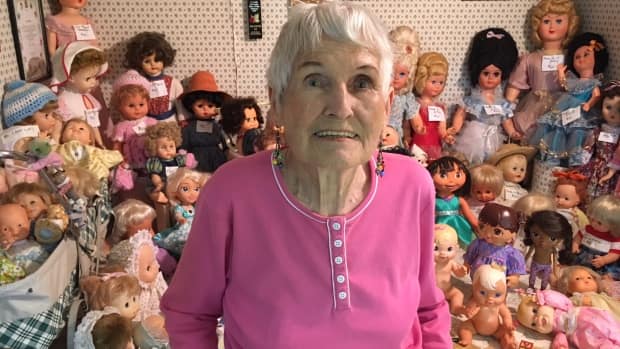 [ad_1]

Lena Clarke is pondering the future of her retirement project.
After a career in nursing, Clarke left Alberta and returned to New Brunswick.
"I was able to take an early retirement and I didn't know what I was going to do to keep myself busy," she said.
At 91, she has her hands full running a doll museum near Petitcodiac.
It was known as Delia's Dollhouse, named after her sister, when she ran it as a full-time business from 1986 until 1999. That changed "when the four-lane highway went through and cut me off from the mainstream of traffic," Clarke said.
The doll museum has about 4,000 dolls. Some were bought at yard sales and flea markets, and others were in collections she bought.
Many are displayed in large cubicles, with detailed painted scenery by Shirley Stiles, who was a local artist. Display cases hold the more valuable parts of her collection.
Dolls, dolls and — more dolls dolls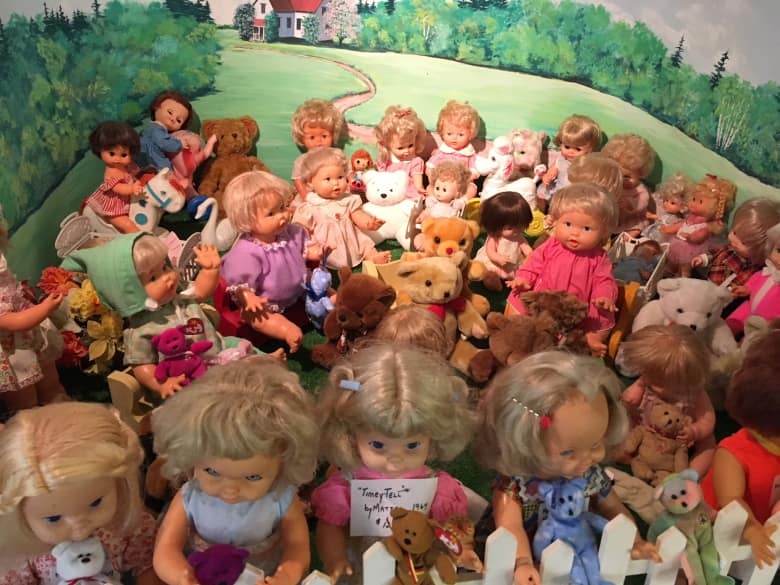 One of the display cubicles with scenery in the background, painted by Shirley Stiles. (Kate Letterick/CBC news)
Clarke said kids can't believe their eyes when they visit.
"Well, when they opened the door the first thing they say is, 'Oh my God!' yes and they, nobody leaves here disappointed," Clarke said.
"And when little kids come, I make sure they don't go empty-armed. I make sure they have either a teddy bear or a doll."
Clarke got the idea after visiting a doll museum in British Columbia.
"That's where I got the idea, but I thought I can do it better than that, which I did," she said.
Although many of Clarke's dolls are displayed in cubicles, more valuable items are kept in display cases. (Kate Letterick/CBC News)
The building is a former Canadian National Railway warehouse that was moved to the property in three pieces.
Clarke said she's ready to hand the museum over to someone else, and, ideally, she'd like to see the building moved again.
"I would like to see it not be torn down because of the paintings that Shirley did. I'd like to see somebody take the building away with all the dolls in it but to leave the paintings on the walls," Clarke said.
Many of the 21 cubicles have themes. This one celebrates Christmas. (Kate Letterick/CBC News)
Clarke said keeping the museum open is a lot of work.
"A lot — a lot, but I meet so many interesting people this way, oh yes," she said, smiling.
Clark said the experience has been "interesting, very interesting and tiring." And she said it might be time to make some changes.
"Move on. That's the idea of the game, isn't it?"
A favourite toy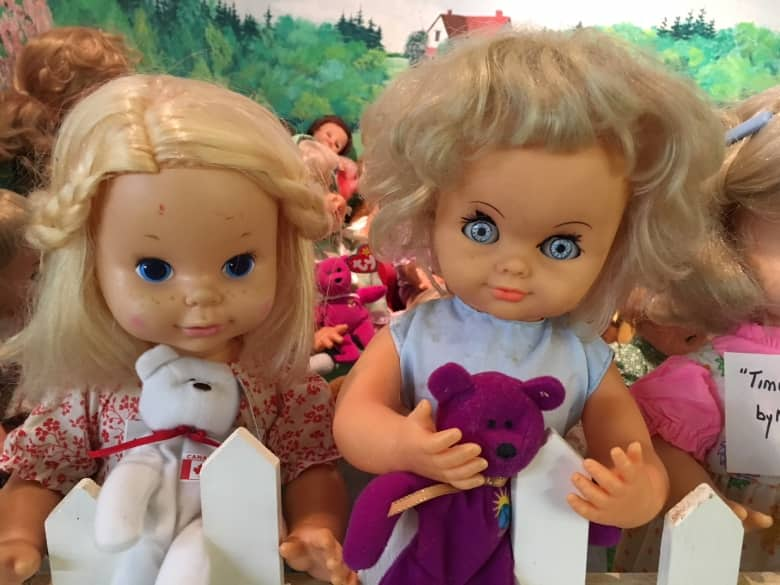 Lena Clarke says the doll museum, located near Petitcodiac, will be open on weekends during the summer. (Kate Letterick/CBC News)
As for the dolls, Clarke doesn't care if they are kept together, but her daughters would like to see them gone. "After all I'm 91 and a half."
The museum may be the best kept secret in the village.
"Do you know I think there's a lot of people in Petitcodiac who have never been here," she said.
Clarke said so far no one has shown any interest in taking over the museum. So she plans to open it on weekends during the summer. There's no admission fee.
"Come. You won't be disappointed," Clarke said. "You can leave with a doll, a gift from me."
[ad_2]