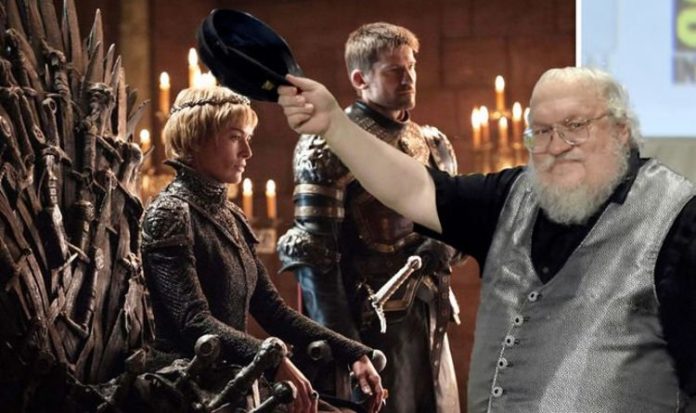 The Winds of Winter is the sixth book in the A Song of Ice and Fire series, following 2011's Dance with Dragons. More than 90 millions copies of the books in the series have been sold, and the next instalment will likely be no different. But fans have waited for 10 years for the book to arrive – so when is it coming out?
Will Winds of Winter come out in 2021?
The answer to the question of when The Winds of Winter will come out very much lies in the hands of the book's author: George RR Martin.
The books in the A Song of Ice and Fire series have taken longer to come out with each new novel.
The first novel, A Game of Thrones, was released in 1996, after which much of George's output came from the world of Westeros.
READ MORE:  Garth Brooks wife: Was Garth Brooks married before he met Trisha?
Among these works, he has edited and written short stories in collaboration with other writers which have strayed outside of this world, but the ASOIAF series has been his main focus.
After A Game of Thrones came A Clash of Kings in 1998, so only two years later than the first.
This was followed by A Storm of Swords in 2000, showing how the original trilogy was released fairly quickly and regularly.
Things became less frequent with A Feast for Crows, which was released in 2005, and A Dance with Dragons in 2011, showing the books took longer to write over time.
This is possibly due to the arrival of the Game of Thrones HBO series, which began airing in 2011 and would likely have gone into pre-production much earlier, taking up some of George's time.
As well as the A Song of Fire and Ice series, George has dedicated time to framing the stories of those characters with accompanying books.
His Tales of Dunk and Egg series of novellas, for example, comprises prequel and historical information about the world of Westeros.
He has written other standalone prequels such as 2014's The Rogue Prince and 2017's The Sons of the Dragon and 2018's Fire and Blood, all of which are centred in the Westeros world and will form the basis of new HBO series House of the Dragon.
DON'T MISS
There are two more novels being written in the ASOIAF, the first is The Winds of Winter, which George has said he is writing while in coronavirus lockdown, while the second is A Dream of Spring, which has no specified release date.
In a recent post on his website Not A Blog, George suggested 2021 will see him potentially finish the novel, maybe leading to a late 2021 release date.
He said on February 2, 2021: "I wrote hundreds and hundreds of pages of The Winds of Winter in 2020.
"The best year I've had on WOW since I began it. Why? I don't know.
"Maybe the isolation. Or maybe I just got on a roll. Sometimes I do get on a roll.
"I need to keep rolling, though. I still have hundreds of more pages to write to bring the novel to a satisfactory conclusion. That's what 2021 is for, I hope."
This spells good things for fans, as he will hopefully be finishing the novel, which he has previously said he expected to be a staggering 1,500 pages long.
However, George has made no promises about when the book will come out and went on to describe how busy he is with other things, stating: "My plate is full to overflowing."
If that plate does not get cleared, it may damage fans' chances of getting their book before the end of 2021 – but hopefully, further isolation will mean the novel is written and fans can start to worry about if they will ever see A Dream of Spring.