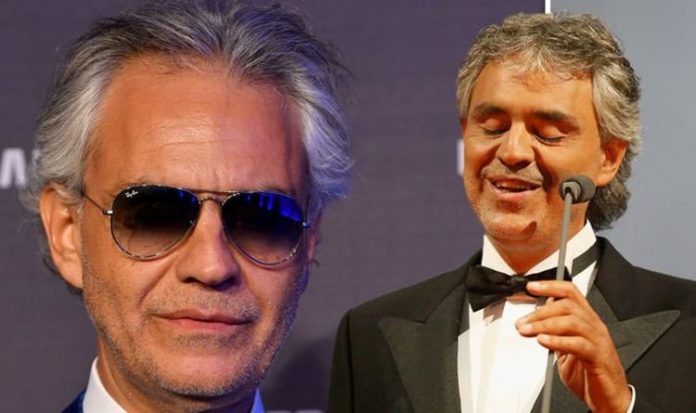 Andrea Bocelli's voice is instantly recognisable for his fans and is responsible for making opera popular in the mainstream market. Celine Dion even once compared his voice to that of God, showing how besotted his fans truly are. However, one of Andrea's most distinguishing features is his lost eyesight – so what happened to him?
How did Andrea Bocelli go blind?
Andrea had eye problems when he was very young and has even said, due to these being suspected, his mother was advised to abort him.
He told The Daily Telegraph: "…the doctors advised her to abort the child. They told her that would be the best solution because the child would doubtless be born with some kind of disability.
"But the courageous young wife decided not to terminate the pregnancy, and the child was born. The woman was my mother, I was the child."
READ MORE:  Garth Brooks wife: Was Garth Brooks married before he met Trisha?
After some time, he was diagnosed with congenital glaucoma, when he was just a few months old.
Speaking in a separate interview, Andrea explained how, ultimately, his eyesight problems helped him to turn to music.
He said: "When I was five my mother discovered that the only way to comfort me with my glaucoma was to play classical music on the record player."
Soon enough, he lost his sight completely when, aged 12, he was in an accident at a football match.
He continued: "As a child I was very lively and uncontrollable, I loved playing football and one day during a match, I was hit violently in the face with a ball on my right eye, the only one which I could see light and colour with.
"The doctors tried to cure me with various operations and they even used leeches but there was nothing that could be done."
The violent impact of the ball hitting him caused a brain haemorrhage, but Andrea lived to sing another note.
As music was his passion, he had learned to read music using Braille, which is not an easy feat for anyone.
DON'T MISS
However, while his glaucoma made this necessary, it became a lifeline when he went completely blind.
Speaking to Classic FM, he explained how he learns music, which includes a mixture of Braille and learning by ear.
He said: "You see, learning a part is easy but it is a different thing to have the part in your throat, as we say.
"For the difficult sections I use a Braille score, otherwise when I have something to study I have my pianist Carlo come to the house every day."
In 2016, his book The Music of Silence, an autobiography about his life and learning to sing while blind, was made into a film of the same name.
The film explored the relationship between sight and sound, and how Andrea found fame when renowned tenor Luciano Pavarotti heard him sing, and took him on tour.
Since then, his career has gone from strength to strength, having recorded 17 studio albums, having sold more than 90 million copies.
This makes him one of the best-selling artists in the world, and in history.