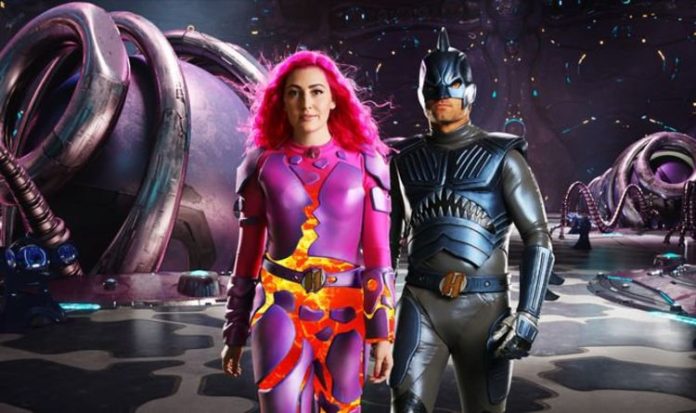 In an unexpected move, Netflix commissioned iconic director Robert Rodriguez to kickstart a brand new kids movie for this holiday season. The streaming giant's new film, We Can Be Heroes, follows a group of superpowered children with superhero parents who have to save the day when the tables are turned on them and their loved-ones. While the entertaining adventure movie was exciting and memorable in its own right, it has been made even more meaningful by being inserted into Rodriguez' own "Rodriguez-verse".
In an exclusive chat with Express.co.uk, Rodriguez spoke about how he inserted his new hit We Can Be Heroes into his own Avengers-style cinematic universe, and what he would like to reboot in the future.
Rodriguez first explained that Netflix approached him because his previous kids movies (the Spy Kids series; Sharkboy & Lavagirl) always "did great" on their service – so he was asked to create one just for them.
However he stresses that he wasn't "making a sequel" to Sharkboy & Lavagirl, but instead just drew inspiration from them.
Included in the collection of kids saving the world in We Can Be Heroes is Guppy (Vivien Lyra Blair), the Sharkboy and Lavagirl's daughter, who has both of her parents' superpowers at her disposal.
The 52-year-old has worked hard on creating his own cinematic style over the past 30 years.
He has frequently revisited some of his older movies, including the likes of the Spy Kids quadrilogy, and their Machete spin-off, creating an even bigger franchise along the way.
But the one series he would like to jump back in to after all these years? – "Desperado. I really like that series of films."
Fans may recall The Mexico Trilogy from the late '90s which was comprised of El Mariachi, Desperado, and Once Upon a Time in Mexico.
DON'T MISS…
Marvel brings back Avengers Phase One villain in unexpected move [INFO]
Avengers: Daredevil fans call on Marvel to save character [NEWS]
During this action-packed trilogy Antonio Banderas played the titular character El Mariachi, and fought against a whole host of foes to avenge his wife, Carolina (Selma Hayek).
Rodriguez gushed: "It's been, what, 25 years? I really got inspired when I saw [Mad Max:] Fury Road. It was 25 years after [Mad Max:] Road Warrior, [director George Miller] made that, and that was a big thing.
"So I think, definitely, Desperado. He's a character that I created in my very first film that still resonates, and was kind of ahead of it's time."
Despite how much he looks back fondly on some of his older films, Rodriguez wanted to make it clear that he loves creating new, fresh ideas for movies.
He continued: "I love coming up with new stories and new characters because it's rare for people to come up with their own franchises, these days.
"It's harder to do, but once you do it it's very satisfying. I was very inspired by [Star Wars creator] George Lucas.
"He wanted to do Flash Gordon but couldn't get the rights – so he came up with his own, and it was Star Wars."
We Can Be Heroes is available on Netflix now.