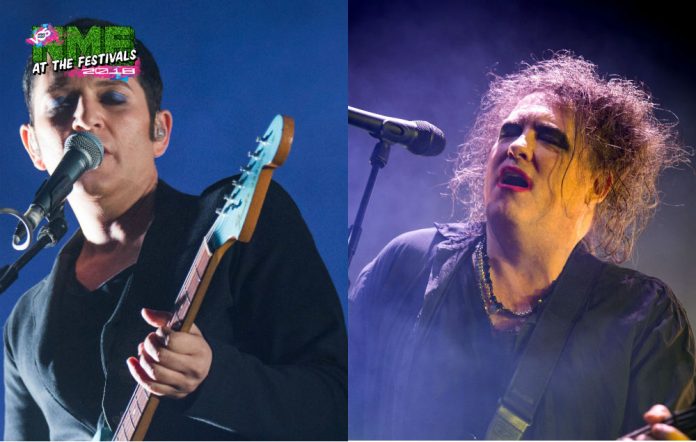 [ad_1]

They paid tribute to the event curator with a rendition of 'Let's Go To Bed'
As they played the Southbank Centre's Meltdown festival on Saturday (June 17) Placebo paid tribute to the event's curator Robert Smith by covering The Cure.
Brian Molko didn't indulge in very much stage patter, but did tell the crowd that he felt  "honoured" to be chosen by Robert Smith for the event. Deftones, Mogwai, and Nine Inch Nails are among the acts slated to play the festival, which goes on until June 24.
To mark the occasion Placebo returned for their encore and performed their own take on The Cure's song 'Let's Go To Bed'. Originally released as a stand-alone single in 1982, the song arose out of sessions for 'Pornography'.
Placebo also performed their staple cover 'Running Up That Hill'. The song was originally by Kate Bush.
They are not the first  to pay tribute to the gothic frontman and his band at Meltdown. Last night saw The Libertines covering The Cure's classic track 'Boy's Don't Cry' in tribute to the event curator. 
Manic Street Preachers, who also played the special event, also praised Robert Smith's talents as a musician. "We were watching some old footage of him the other day," James Dean Bradfield told NME. "There were a lot of French TV performances and there was some amazing stuff that he was playing. He's a real 'in the pocket' guitarist. Siouxsie and the Banshees always said that they wanted to keep him because he was so brilliant, but he was always quite wary to let loose and express himself too much because he didn't want to indulge in guitar onanism as I frequently do. He wanted to keep his taste filter in check – but he's always been a brilliant guitarist. He's nifty. He knows his way around and he knows how to express himself."
Elsewhere, Smith revealed that The Cure would soon be recording new material and touring again next year – teasing that they could 'maybe' headline Glastonbury 2019.
[ad_2]