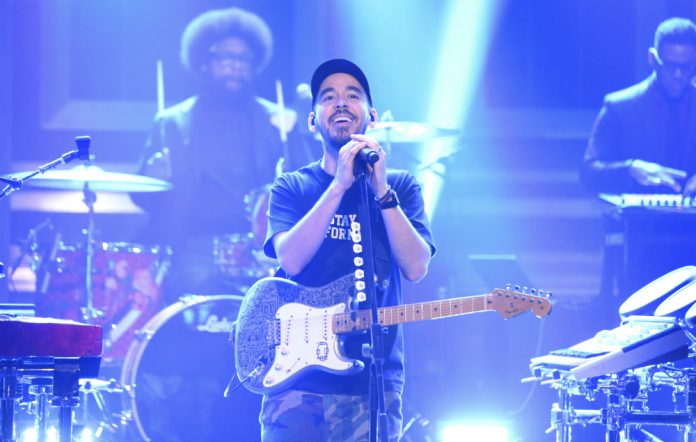 [ad_1]

The musician's new LP dropped last week
Mike Shinoda gave a live TV performance of his new single 'Crossing a Line' last night (June 19). Check out the clip below.
The Linkin Park musician released his first solo album 'Post Traumatic' last week. It follows January's EP of the same name. 'Crossing a Line' was one of two singles – including 'Nothing Makes Sense Anymore' – to be unveiled back in March.
Now, Shinoda has made his solo TV debut with an appearance on The Tonight Show with Jimmy Fallon. The performance begins with delicate piano and synth as strobe lighting fills the stage. Shinoda then unleashes guitar solos as the song builds towards its climax.
In support of the new record, Shinoda is due to perform at this year's Reading & Leeds festivals. Joining him on the bill are the likes of Fall Out Boy, Kings Of Leon, Kendrick Lamar, Panic! At The Disco, Death From Above (1979), Yxng Bane, Dinosaur Pile Up, The Used and more.
Meanwhile, the Linkin Park co-frontman recently recalled the experience of hearing the band's music for the first time since Chester Bennington's death.
"At a certain point, I just had to face enough of that and be okay with it," he said. "I had to listen to our music, for example. I was in a car on a long drive back from Phoenix's house [Linkin Park's bassist Dave Farrel], and we were hanging out with all the guys in the band, and he'd asked, 'Have you guys tried to listen to our music yet?' Everyone said no.
"It had been a week and a half or something, and we hadn't even tried because it was just terrifying. I said, 'Why, did you?' He said yeah, so I asked him what that was like. He said, 'Y'know, not as scary as you think. I got through 'One More Light', and I could do it. Now I've been trying to listen to our stuff again and face it head-on'.
Shinoda also discussed whether Linkin Park could carry on without Bennington in the future.
[ad_2]