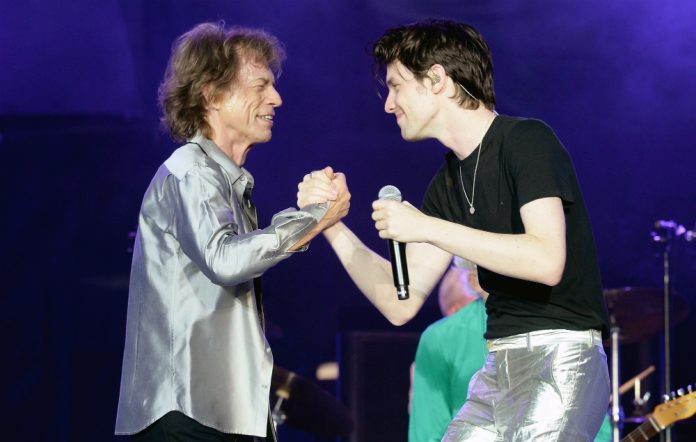 [ad_1]

The 'Pink Lemonade' artist supported Mick an co. at Twickenham
The Rolling Stones were joined onstage by James Bay for a special performance of 'Beast of Burden' last night (June 19). Check out footage below.
Bay, who released his second album 'Electric Light' last month, supported the legendary band on the final night of their huge UK stadium tour. Opening for the band on the previous dates were the likes of Liam Gallagher, Florence + The Machine, Richard Ashcroft and Elbow.
Following his Twickenham Stadium outing, Bay took to the stage once again – joining Mick and co. for a duet of the classic 1978 song.
During an interview with NME last month, the 'Hold Back The River' singer said that The Stones and Wembley have personal significance. "My dad was a teenager in the '60s and he was obsessed with The Rolling Stones," he said.
Speaking of his father telling him about his visits to Wembley, Bay added: "I thought it was going to be for sport, but he said, 'Nah, five times for Bruce Springsteen and 20 for the Stones'. I said, 'No sport?' He said, 'Nah, that place is for Springsteen and the Stones and Queen: that's a house for great, great music.'"
Back in 2015, Bay was joined onstage by guitarist Ronnie Wood for a cover of the Faces' '(You Know) I'm Losing You'.
Earlier on this summer's tour, the Stones performed 'Wild Horses' with Florence Welch at London Stadium.
Meanwhile, James Bay is set to appear at this weekend's Isle of Wight Festival. He'll perform on Saturday evening ahead of Liam Gallagher and Depeche Mode. Other acts appearing across the three-dayer include Kasabian, The Killers, Manic Street Preachers and Blossoms.
[ad_2]