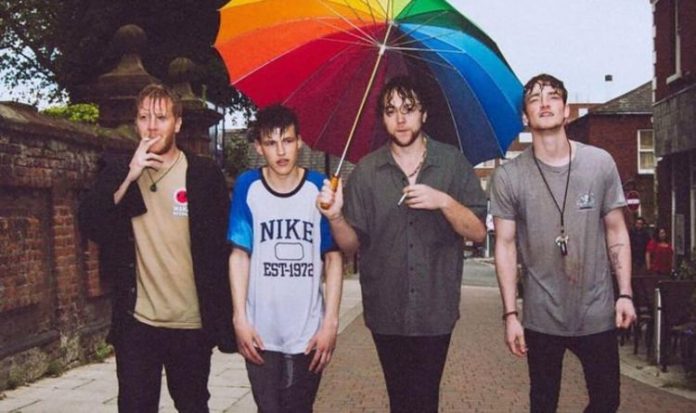 Viola Beach was an indie rock band based in Warrington, Cheshire. They had been supported by BBC Introducing, meaning their profile was rising when things sadly changed. Their deaths were reported in 2016, along with that of their manager, but what happened?
How old were the members of Viola Beach when they died?
There were four members of Viola Beach, along with their manager, Craig Tarry.
Frontman Kris Leonard and guitarist River Reeves were 19-years-old at the time of their deaths, while bass player Tomas Lowe was 27-years-old, and drummer Jack Dakin was 24-years-old.
On February 13, 2016, the four band members and Craig were driving in their car in Södertälje, near Stockholm in Sweden.
READ MORE:  Motley Crue members: How many band members have been in Motley Crue?
The band had played the day before at a festival in Norrköping, and were returning to their hotel near Arlanda airport.
They had an accident, where their car fell through a gap in a lift bridge along the E4 motorway, which killed the driver and the passengers.
An inquiry was opened in Sweden, which found no alcohol or drugs in the driver's blood, which was also shown in the coroner's report in the UK.
In March 2016, inquests were opened into the band and manager's deaths in the UK, with all five men's bodies released to their families.
The coroner ultimately listed a verdict of 'road traffic collision', with Tomas's official cause of death being drowning.
The other four men died of head injuries caused by the crash, but there was no speculation from the coroner as to what had caused the accident.
The inquest heard the coroner state: "I don't think it will ever be known what happened. It's the most awful tragedy."
The coroner also said he would not wish to 'speculate' on what has caused the car crash.
At the inquest, a statement was read out from their families, thanking the public and residents of their hometown of Warrington for their kindness and support.
DON'T MISS
Before the accident, the band had been working together since 2013, with a line-up which slightly changed.
Their original line-up included Kris and Jack, with Frankie Coulson on guitar and Jonny Gibson on bass.
Frankie and Jonny left the group to go to university in 2015, at which point Tomas and River joined the band.
They released their debut single, Swings And Waterslides, on their own label Fuller Beans, which was self-funded, in August 2015.
After this they released Boys That Sing, which was released on the Communion Records label in January 2016.
By this point, the band had performed at the BBC Introducing stage at Reading and Leeds festivals in 2015, and recorded a live session for BBC Radio 1.
BBC Introducing named them on their long list at the beginning of 2016, but their deaths came sooner than their first album.
Their label, Communion, said in a statement after their deaths: "Viola Beach had only recently come into the Communion family, and had everything going for them – great songs, passion, talent, drive… everything that a band should have.
"To sit down with the band was to sit down with a group of guys whose band you wanted to be in, and to be in the presence of a band who knew just what it would take to make it."
The self-titled album Viola Beach was released by Fuller Beans Records, their own company in June 2016, and included nine tracks of their work along with a statement from the men's families.