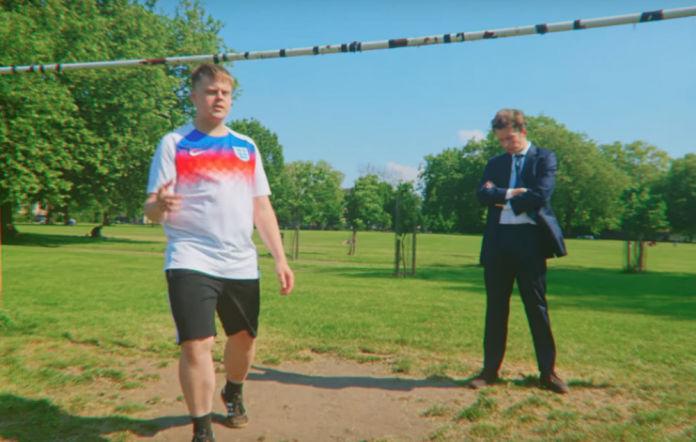 [ad_1]

The video features a bunch of indie heroes, too
Listen hard, and you can hear it. The cracking of tinnies floating through the air. The smell of sweat as it drips towards a penalty spot. The intake of breath as a country tenses in unison. The World Cup is almost here. Listen harder still and finally, after 28 years of hurt, we've been blessed with a football song to rival 'World In Motion'. Gareth bless The Rhythm Method.
The London duo are no strangers to soundtracking British malaise, their usual fare tackling everything from gentrification to big nights out on the sauce. But this time, the brilliantly-titled 'Chin Up' is here to offer a much-needed word of support to Our Brave Boys. It's about time. The Rhythm Method have stepped up to the pen spot and scored a blinder, while the tabloid press (with their shameful treatment of star forward Raheem Sterling in recent weeks) have skied it.
Surging forward like Dele Alli with his eyes on the prize, 'Chin Up' wastes no time in planting its corner flag. Sampled chats from Alan Shearer are joined by fluttering electronic drums and a twinkling, retro synth line – it all harks back to New Order's 'World In Motion' which, as everyone knows, is (was?) the greatest football song of all time. From there, the dual vocals of Joey and Rowan weave their way around tales of supporting The Lads through thick and thin, and putting aside our typically English pessimism. It's all capped off with the line "like a plastic chair thrown across a European market square" – the most beautifully delivered depiction of senseless, half-hearted violence since those photos of Cardiff city centre on the piss.
Speaking of stunning imagery, let's talk about that video – Swim Deep's Austin Williams joins Ellie and Theo from Wolf Alice on the pitch, as they enjoy a rusty-goalposted kickabout in the park. It's as effortlessly English as a chip butty.
"Every city in town gotta make a sound / got a feeling England's got this," Rowan assures us as the track reaches its turf-studding conclusion. And with a song this banging behind them, we believe him. It can mean only one thing. We're going to do it. We're going to win the World Cup. Pass me a tinny. Football's coming home.
[ad_2]