[ad_1]

Chinese demand for Canadian holidays is helping to fuel a tourism renaissance in this country after a lengthy lull that began following the attacks of Sept. 11, 2001.
This year, China became the second largest source of visitors to Canada behind the U.S. Almost 70,000 Chinese nationals entered Canada last March, according to seasonally adjusted numbers. The U.K., which held the No. 2 spot for three decades, fell to third. 
Foreign visits to Canada, both same-day and overnight, plummeted after the attacks of Sept. 11 and the more intense border security that followed.
The SARS outbreak in 2002, the global recession of 2008, and an unattractive exchange rate brought the number of visitors to Canada crashing in 2010 to the lowest level since 1972, when Statistics Canada started tracking border entries.
But now a humming global economy and increased air travel from emerging countries are pushing the numbers back up. Though they're still far below the all-time highs of the late 1990s, when Canada welcomed more than four million visitors a month.
"I don't see why it's not possible to reach those numbers again," said Claude Normandin, an analyst for Statistics Canada who tracks travel data.
Canada became a viable destination for Chinese travellers eight years ago. That's when the Chinese government gave Canada what's called Approved Destination Status, meaning Chinese citizens had permission to travel here (the U.S. got this in 2008, and most European countries in 2004).
Sherry Sun, co-owner and general manager of Canada CYTS Travel Services, a tour operator based in Richmond, B.C., that serves Chinese travellers, says Canada is becoming a go-to destination for MICE travel — the growing meetings, incentives, conferences and exhibitions segment of the tourism industry.
She says Chinese travellers are drawn to Canada's monumental landscapes, like the Rockies and Niagara Falls. And many also have relatives on the West Coast.
"Big cities here have huge Chinese communities, and a rich history around railroads and gold mining," she said. "My clients are surprised that they can eat food here that's as good as Hong Kong."
A changing travel landscape
Typically, the vast majority of visitors to Canada, about two-thirds, enter the country through Ontario. But in the past two years, that trend has begun to change.
Entries into Ontario have plateaued while total numbers for Canada keep going up. There are two big reasons for this: there are fewer Americans entering by car, and more international travellers arriving by air.
"In B.C., we're seeing a lot more travellers coming in from Asia," Normandin said. "In the past, in the '70s and '80s, non-U.S. travellers were coming more from Europe."
When you look at foreign travellers by province of entry, B.C., and to a lesser degree Quebec and Alberta, are leading the growth, both from the U.S. and abroad.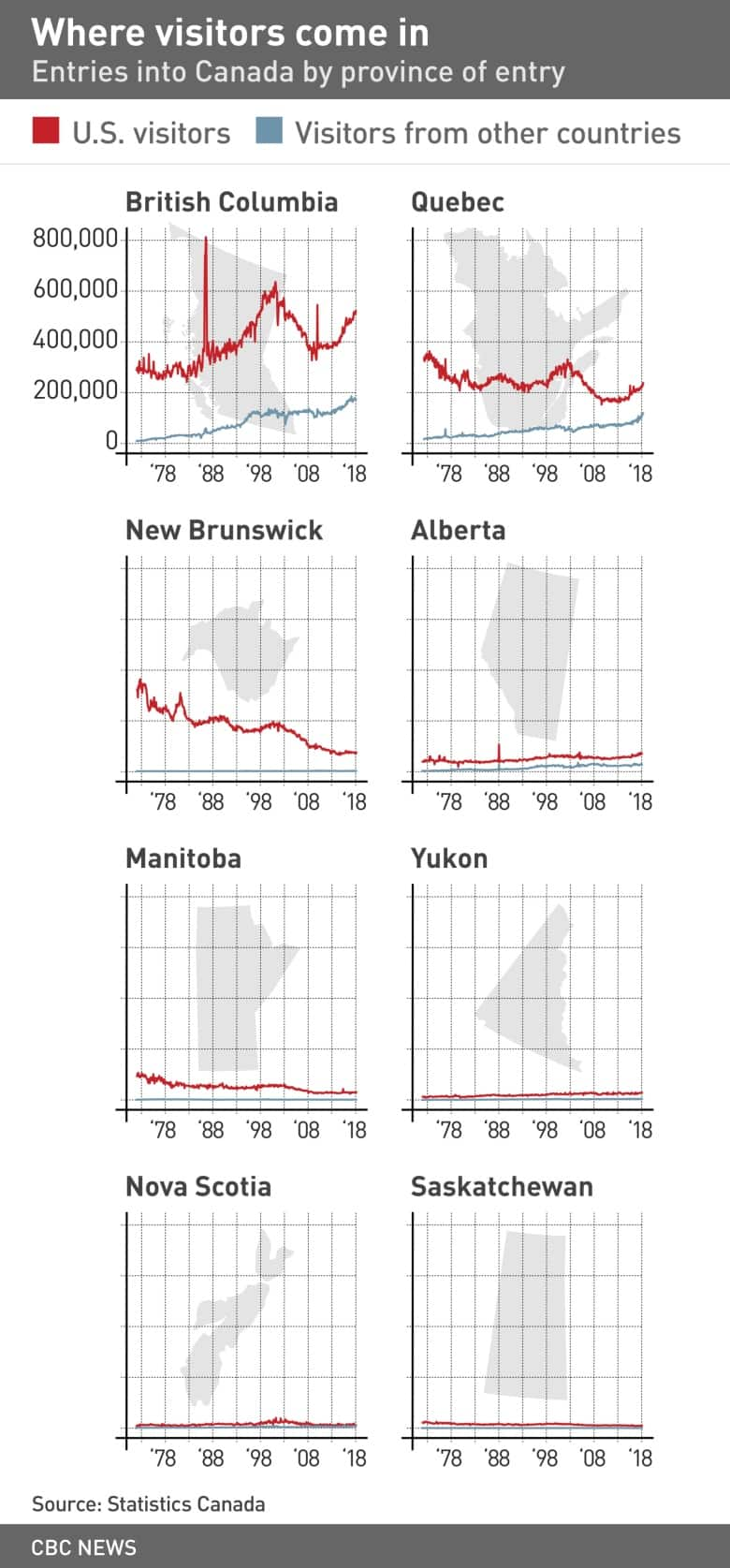 (Stephanie Dudley / CBC News)
As people in emerging markets amass more disposable income, they have the opportunity to choose where to spend their vacations, where to study, and where to do business abroad. Normandin says Canada has increased its marketing budget to get the attention of these potential travellers.
In 2016, the federal government injected an extra $50 million over two years into Destination Canada, a Crown corporation that promotes the country as a travel and business destination. Its annual funding has been stabilized to $95.5 million until 2022. In 2012, it was around $72 million.
In the past 10 years, there have been just as many entries by air from non-U.S. countries as from the U.S. But entry by car from the U.S. is still the most popular type of visit.
Limited capacity may dampen growth
Canada is on track to catch up to comparable yet more popular destinations like Germany and New Zealand, a report from Destination Canada says. Given that 2018 is the Canada-China Year of Tourism, a partnership to promote travel between the two countries, the number of visitors this summer is expected to keep rising.
But not everyone in the travel industry will be able to benefit. Hotels, local transport and attractions in some popular destinations like Vancouver and Banff, for example, are already at capacity for the summer season, according to Sun. 
"We're trying to promote the winter season. But people already think Canada is cold. They don't want to come in winter," she said.
Destination Canada's report says these capacity problems will likely slow tourism growth in Canada in the next few years. 
"Increasing capacity and developing new products won't happen overnight, and will require the concerted co-operation and investment of governments at all levels and the private sector," the report says.
[ad_2]