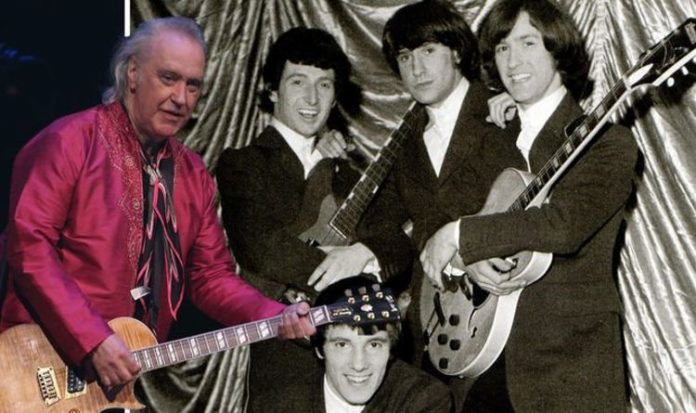 The Kinks was started by brothers Ray and Dave Davies. The north London-based band came together after years of different line ups, with early incarnations of The Kinks featuring names like Sir Rod Stewart. But who has been the members of The Kinks and is the band still together?
The Kinks started out with brothers Dave and Ray Davies, who were born in Finchley, north London.
The pair were the youngest siblings in the family of eight children, and were the only boys, so bonded over their love of skiffle music and guitar-playing.
While at school in Muswell Hill, where the Davies family moved, they formed the Ray Davies Quartet, with other band members Peter Quaife and John Start.
At one point this incarnation of the band had Rod Stewart as its lead vocalist, though he went on to start a rival band, Rod Stewart and the Moonrakers.
READ MORE: Buddy Holly death: How rock 'n' roll star's death inspired famous song
Ray began studying at Hornsey College of Art, and pursued various creative outlets while also meeting many musicians such as Alexis Korner, Dave Hunt and Yardbirds manager Giorgio Gomelsky.
The Ray Davies Quartet continued to play with the original members, renaming as the Ramrods, the Ravens and the Bo-Weevils before settling on The Kinks.
During this time they also lost John as their drummer, and enlisted the help of Mickey Willet.
They auditioned for various labels, failing until they landed a deal with Pye Records, and started to release singles, by which time Mickey had been replaced by their long-term drummer Mick Avory.
As many bands in their day did, they started out with covers of famous rock 'n roll and blues artists like Little Richard, until Ray Davies' own composition, You Really Got Me, saw them getting some major attention.
They then released All Day and All of the Night, which is also one of their signature songs.
By 1965, their style was changing a great deal, and in the few years to follow, their line-up was to change as well.
In 1969, Peter left the band after having an accident, and was replaced by his stand-in, John Dalton.
In 1970, the band became a five-piece for the first time, bringing John Gosling on board as a keyboardist after session player Nicky Hopkins had subbed for them since their signing.
DON'T MISS
Once again, the band went through another incarnation of their sound, focusing on concept work like the hugely unpopular Preservation Act albums.
Ray struggled with personal issues during this time; so much as to warrant the consideration of Dave as a potential frontman.
However, by the mid-1970s they were back on top, at which time John Dalton left the band in 1976.
Andy Pyle briefly replaced him as the bassist before Jim Rodford joined the band.
However, the same year Jim joined, in 1978, John Gosling left the band, and was replaced first by Gordon Edwards before Ian Gibbons became a permanent replacement in 1979.
While the band continued to make music in the 1980s, their music declined in popularity and eventually, long-time drummer Mick left the band, being replaced by Bob Henrit in 1984.
Finally, the last line-up change came when Mark Haley joined as a keyboardist to replace Ian in 1989.
However, the band would not last long at this point, and The Kinks gave its last public performance in 1996, after the core of the group, the Davies brothers, suffered some creative tension and disagreements.
Both brothers later shared their hopes of a potential reunion, but at different times former members died, such as Ian, Peter and Jim, making it a more difficult idea.
However, while the band has never reunited, the Davies brothers have performed solo albums and even admitted to recording together again, though no signs of an official reunion have been suggested.