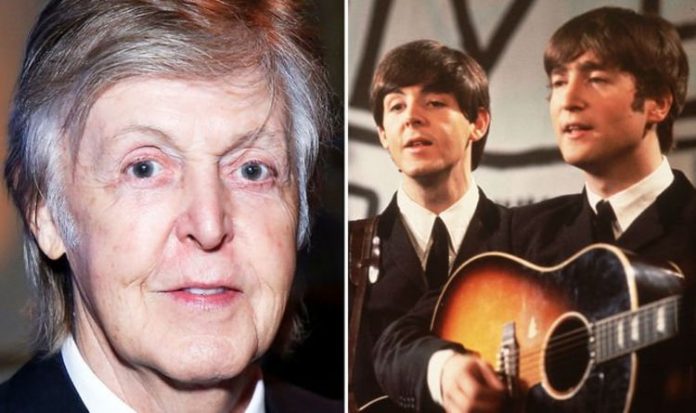 They had one of the most famous songwriting partnerships of all time, often credited as Lennon-McCartney even when only one of them wrote the track. But now Sir Paul McCartney has revealed his favourite John Lennon songs. The Beatles legend made the reveal in a recent interview promoting his new solo album McCartney III.
Louis Theroux wrote into the Adam Buxton podcast and asked what Sir Paul's favourite Lennon tracks from the Beatles era were.
The 78-year-old replied: "From The Beatles era? There's a few. They always ask you what's your favourite song, but there's a few.
"Strawberry Fields Forever, I loooooved. Across the Universe, I loooooved."
The star then highlighted Lennon's song about his mother Julia who died in 1958.
READ MORE: The Beatles: Sir Paul McCartney's tribute to 'INCREDIBLE' John Lennon
Sir Paul said: "Julia…is about the mum he couldn't live with.
"So I loved the poignancy of that, because I'd been with him round to Julia's house to visit her.
"And I knew how deeply he loved her. So Julia I would go with."
While on Lennon's post-Beatles songs, the 78-year-old said he's a big fan of Beautiful Boy – the track about Lennon's son with Yoko Ono, Sean – which Sir Paul said was "a really great song".
Sir Paul added: "But I went to the same school as the guy who introduced us [Ivan Vaughan].
"So thinking back on it, I do think, 'Oh god, we were very lucky!'"
In fact the 78-year-old still feels so much affection for his friend, who was tragically killed 40 years ago this month, that he wishes he'd given him more cuddles.
He said: "I was thinking the other day, 'I wish I'd just sat and hugged him all the time we were together.'"
Sir Paul continued: "But as you know, that would probably be slightly out of line! But it's the kind of thing you think y'know?
"But guys didn't do that kind of thing where I'm from."
In another fun anecdote, the 78-year-old remembered hitch-hiking with George Harrison in the 1950s since they couldn't afford a proper holiday; sometimes ending up as far away from Liverpool as Wales and Exeter.
McCartney III is released on December 18, 2020.