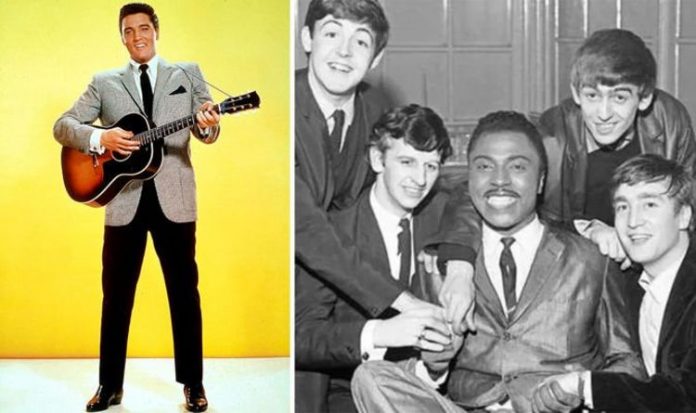 Sir Paul McCartney is one of the most successful singer-songwriters of all time from his time in The Beatles and beyond. But even he as a boy growing up in 1950s Liverpool was heavily influenced by those who preceded him. Now in a new interview, the 78-year-old has shared how Elvis Presley, Little Richard and more classic artists and songs still "lift my spirits".
Appearing on The Adam Buxton podcast, Sir Paul was asked which artists and songs he's continued to return to throughout his life; ones that really lift his spirits.
The 78-year-old replied: "Yeah, well, I've got a jukebox. So All Shook Up by Elvis, that takes me back and lifts my spirits.
"Little Richard happens to also be on this jukebox. Lucille and Good Golly, Miss Molly are serious recordings. I love them.
Asked if it was true that Little Richard gave Sir Paul instructions on how to do that extremely high wail on some of his Beatles tracks, the star said he just copied him.
READ MORE: The Beatles: Sir Paul McCartney on meeting 'darn cool' Elvis Presley
Sir Paul continued: "Well I don't think he actually sat me down and instructed me, I just copied him.
"He always used to say [puts on high voice] 'I taught Paul everything he knew!' And I'd say, 'Yes you did Richard.'"
The Beatle then revealed that the first record he ever bought is also on the jukebox in Be-Bop-A-Lula by Gene Vincent.
He added: "I remember going into Curry's and going round the back to their little record department. Buying it, taking it home and just being so thrilled with it."
Sir Paul wrote that Little Richard's songs came "screaming" into his life as a teenager in 1950s Liverpool.
He shared: "I owe a lot of what I do to Little Richard and his style, and he knew it. He would say, 'I taught Paul everything he knows'. I had to admit he was right.
"In the early days of The Beatles, we played with Richard in Hamburg and got to know him. He would let us hang out in his dressing room and we were witness to his pre-show rituals.
"With his head under a towel over a bowl of steaming hot water, he would suddenly lift his head up to the mirror and say, 'I can't help it cos I'm so beautiful'. And he was."
He added: "A great man with a lovely sense of humour and someone who will be missed by the rock and roll community and many more.
"I thank him for all he taught me and the kindness he showed by letting me be his friend.
"Goodbye Richard and a-wop-bop-a-loo-bop – Paul McCartney."
Sir Paul's new solo album McCartney III is released today.