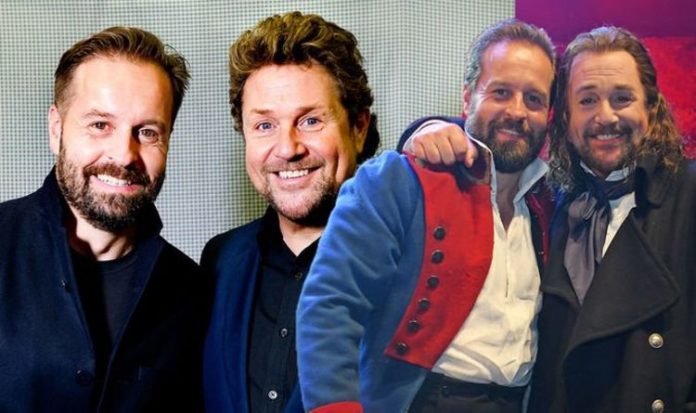 Michael Ball and Alfie Boe sing together a great deal, as well as performing on stage together. They also appear together on talk shows, speaking about their work and upcoming albums. They have now moved into Christmas tunes with their latest joint album, Together at Christmas.
Michael Ball and Alfie Boe have sung together many times, having released a number of studio albums as well as working together on stage.
Their first album together came out in November 2016, called Together.
Together included songs from the musicals, which the pair have sung on stage, as well as pop covers like Christina Perri's A Thousand Years.
The first was Bring Him Home, from Les Miserables, while other famous musical hits included Somewhere from West Side Story and Over the Rainbow, from The Wizard of Oz.
READ MORE:  James Bond actors: Expert describes how stars have maintained manhood
The pair did sing one Christmas song on this album, I'll Be Home for Christmas, which perhaps inspired them for their latest album.
Their next joint album was Together Again, released in October 2017 which, like its predecessor, went to Number One in the UK charts.
This album also included songs from the musicals, as well as songs which fans would know from famous singers as well as TV stars such as Celine Dion, Andrea Bocelli and Morecambe and Wise.
Similarly to the last one, the album ended with a Christmas song, this one the Bing Crosby classic White Christmas.
In November 2019, the pair were back again with their third album, Back Together, after each singer had released one solo album in between.
This album was a little different to the first two, taking its songs more from films and more popular sources.
That being said, the album opens with The Greatest Show from The Greatest Showman, a new musical, and also includes songs from The Lion King and Wishing You Were Somehow Here Again from The Phantom of the Opera.
However, there are also songs from Dire Straits and Queen, showing a slightly different side to the singers.
Unlike their previous albums, the performers did not sing a Christmas song at the end of the record, perhaps because of their upcoming project.
DON'T MISS
This year, in November, the singers released their latest album, this time a Christmas album called Together at Christmas.
Their previous Christmas songs, I'll Be Home for Christmas, White Christmas and a bonus track from the movie Anastasia, Once Upon a December, feature once again.
However, there is also a whole host of newly recorded tracks, such as Sir Cliff Richard's famous Mistletoe and Wine; The Christmas Song, featuring Geoffrey Porter; and well-loved carol O Holy Night.
There is also an original track on the album, co-written by Michael Ball, called My Christmas Will Be Better Than Yours, moving the album out of the usual Christmas collection.
Together at Christmas is out now