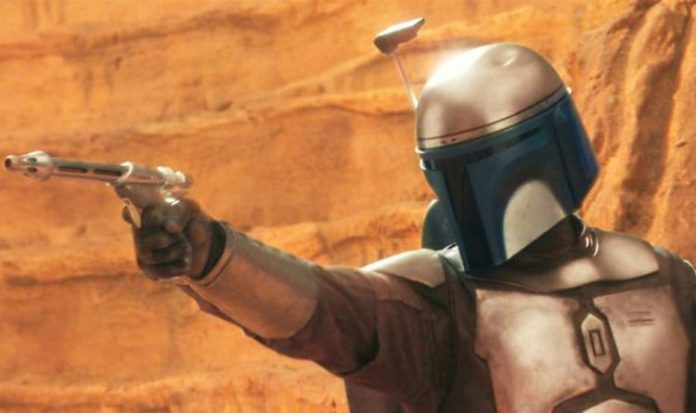 Jango Fett was The Mandalorian armour-wearing mercenary whose DNA was used to create a clone army. But during a meeting with Obi-Wan Kenobi, he mysteriously seemed to hint he'd been listening in on the Jedi. That's the claim of a popular new fan theory that argues Jango Fett bugged Padme's apartment in Star Wars Episode II: Attack of the Clones.
Reddit user JustinBiebersLeftNut argued: "When Obi-Wan tells Anakin how his senses aren't attuned as his, Anakin responds, 'And yours are?'.
"To which Obi-Wan says "Possibly" and then when Obi-Wan meets Jango, Jango says "Possibly" in the same way as Obi-Wan did."
So was this just a little reference by the screenwriters or did Jango actually bug Padme's apartment?
The theorist later added: "As people have pointed out, Mandalorian helmets can already listen in and stuff, so while I don't know if he placed microphones or bugs in the room, he somehow did know of the conversation between Anakin and Obi-Wan."
READ MORE: Star Wars: The Mandalorian reused The Force Awakens side character
Star Wars fans will know that Jango raised one of the clones as his son Boba Fett.
He grew up to be one of the most feared Mandalorian bounty hunters in the galaxy.
But in Episode VI: Return of the Jedi, Boba fell into the man-eating sarlaac pit on Tatooine and was long thought dead.
That was until The Mandalorian season 2's first episode in Chapter 9: The Marshal. Set just a few years after Return of the Jedi, Mando came across Cobb Vanth, who was wearing Boba Fett's armour.
Now that the Star Wars sequel trilogy has concluded with last year's Episode IX: The Rise of Skywalker, Disney are taking a break from the franchise's films.
Of course, apart from The Mandalorian, there are other Disney+ series in development to keep fans busy including a Ewan McGregor Obi-Wan miniseries set after Episode III: Revenge of the Sith.
Nevertheless, the next Star Wars movie is now confirmed for Christmas 2023, with two more due in December 2025 and 2027.
Additionally, The Last Jedi director Rian Johnson is helming a new Star Wars trilogy, which will be separate to the Skywalker Saga.
Meanwhile, MCU boss Kevin Feige is working on a Star Wars movie with Lucasfilm president Kathleen Kennedy.
Then there's Thor Ragnarok director Taika Waititi, who is also helming a Star Wars film.
After directing the final episode of The Mandalorian's first season and playing a droid, the Kiwi will co-write his movie with Krysty Wilson-Cairns.
Additionally, Sleight director JD Dillard and Luke Cage writer Matt Owens have a Star Wars movie in early development.
READ THE FULL JANGO FETT THEORY HERE