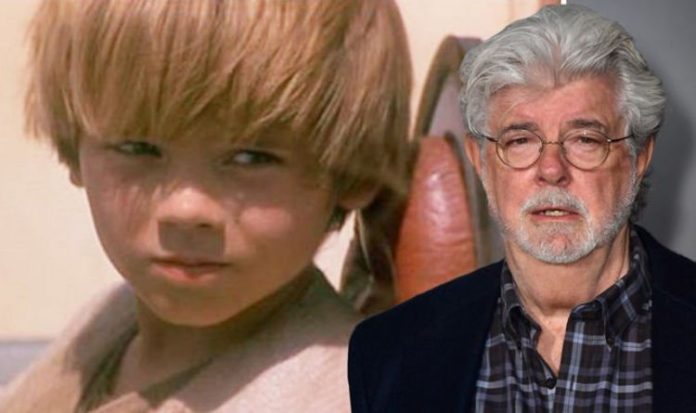 Star Wars creator George Lucas had a pretty tight grip on the franchise when it began. Not only did Lucas write and direct the original trilogy, from 1977 to 1983, but he did the same with the prequel trilogy, which spanned from 1999 to 2005. The prequel trilogy changed a massive amount of the series' story, however, and although it was ultimately successful, the director was told he was about to make a big mistake.
In the new book, The Star Wars Archives, published by Taschen, it has been revealed Lucas' plans for the prequel trilogy worried his production company.
At the time, Lucas was working with 20th Century Fox when he began writing The Phantom Menace, The Attack of the Clones, and Revenge of the Sith.
According to the book he was then told that working on a movie based around the young Anakin Skywalker (Jake Lloyd), would have been a disaster.
Of course, the second and third films in the franchise saw an older Anakin turning to the Dark Side – but the first film really needed to make some money.
READ MORE: Star Wars reboot: Sequel trilogy 'SCRAPPED' as George Lucas 'to film veil of the Force'
The book says the studio told Lucas: "You're going to destroy the franchise, you're going to destroy everything!"
Lucas was obviously a little deflated by this, as he reportedly then went back to his staff at Lucasfilm to tell them the news.
Lucas apparently told his team he was "making a film nobody wants to see" but would "rather do that than tell the same story over and over".
Although to this day the prequel trilogy is often considered the worst trilogy of the three film series, it did extremely well at the box office.
Elsewhere in the book, Lucas told of his original plans for his own sequel trilogy.
Although the sequel trilogy explored the continued journey of Emperor Palpatine (Ian McDiarmid), Luke Skywalker (Mark Hamill), and some new characters, Lucas wanted to focus more on Darth Maul (Ray Park).
Darth Maul was a major part of The Phantom Menace, and he was originally going to team up with a newcomer, Darth Talon, and take on the Jedi.
What's more, Lucas was also going to focus entirely on Carrie Fisher's Princess Leia.
The book explained: "George Lucas' plan for the sequel trilogy included: Darth Maul and Darth Talon as the villains.
"Luke rebuilding the Jedi Order from survivors of Order 66; Leia forming the New Republic, becoming the Chosen One."
Disney went on to write new characters into the franchise, Rey (Daisy Ridley), Finn (John Boyega), and Poe Dameron (Oscar Isaac).
The Star Wars films are available to watch on Disney Plus now.
READ THE ORIGINAL REPORT HERE