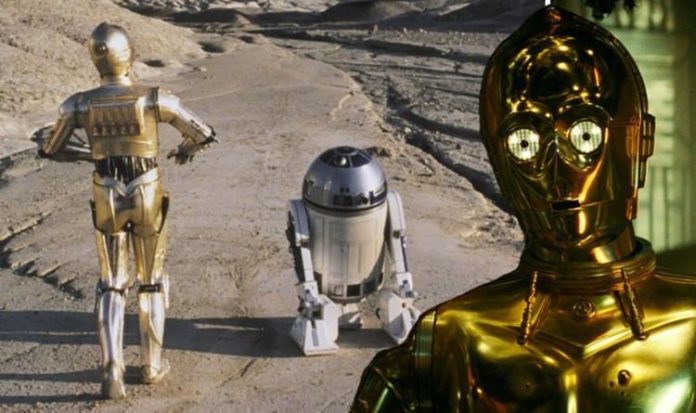 Star Wars is a hugely famous franchise, with Carrie Fisher, Harrison Ford and Mark Hamill leading the original cast. Quickly, two other stars and their characters became firm fan favourites: C-3PO and R2-D2, played by Anthony Daniels and Kenny Baker. Anthony returned to the cast for the later films, while Kenny was a consultant until his death in 2016.
Were Anthony Daniels and Kenny Baker friends?
While C-3PO and R2-D2 had a close relationship throughout their time together in the film, the actors who portrayed them, in contrast, did not have quite the same relationship.
In fact, they had what some in Hollywood might call a feud.
This first came to the fore in 2005, when Kenny gave an interview to Hollywood.com, saying he was hugely offended by something Anthony did backstage.
READ MORE:  Garth Brooks wife: Was Garth Brooks married before he met Trisha?
He said: "Anthony doesn't mix at all – he keeps himself to himself.
"He never wants to have a drink with any of us. Once when I said hello to him he just turned his back on me and said, 'Can't you see I'm having a conversation?'
"I was blazing with rage. It was the rudest thing anyone had ever done to me. I was furious. It was unbelievable."
Later, in 2006, Kenny said while they were not close, they were barely able to speak on set at all thanks to their hugely difficult costumes.
He said: "We were both in our droids; there was no interconnection at all. We couldn't hear or see each other.
"George [Lucas] used to shout, 'Look left, look right'" and wanted me to project emotions like happiness and sadness. It wasn't very easy, which also applies to C-3PO.
"He had to record his dialogue later on which had to match his movements.
"He had way more movement because he had arms and legs.
"I didn't have that, so it was very hard to communicate."
DON'T MISS
"He came in an hour before me to get in the costume, while I just needed five minutes to get into R2.
"When we were done, they took the lid off and I am out!
"He needed another hour to get rid of the costume. So, we never met a lot."
Kenny famously once referred to Anthony as 'golden balls' and claimed in a 2009 interview with Metro Anthony had 'degraded' him, calling him 'little man' and refusing to socialise.
In an interview with Express.co.uk in 2019, Anthony explained his surprise and anger at Kenny's comments, despite some years before saying the character 'might as well be a bucket.'
Anthony said of his co-star: "Kenny decided that he wanted to say unkind, unpleasant, rude, hurtful things.
"It got worse and worse. And rather like Mr Trump, if you say it often enough, people believe you."
"The fact is we didn't really appear or interact together. He was in a box he couldn't do anything with.
"He couldn't hear me. He never made a sound. I had to work, frankly, very hard to believe that this object was my best friend.
"R2-D2 never spoke to me, but I had to believe it was real.
"I created all his dialogue in my head so C-3PO had something to react to, to bring our conversations alive."
"I think everyone just took it for granted and didn't realise what I had created.
"These days they have a performer on set for BB8 and I believe the script has his dialogue in English.
"It is so much better to act against. I wish we'd had that in the early days."
Kenny died on August 13, 2016, days before his 82nd birthday.