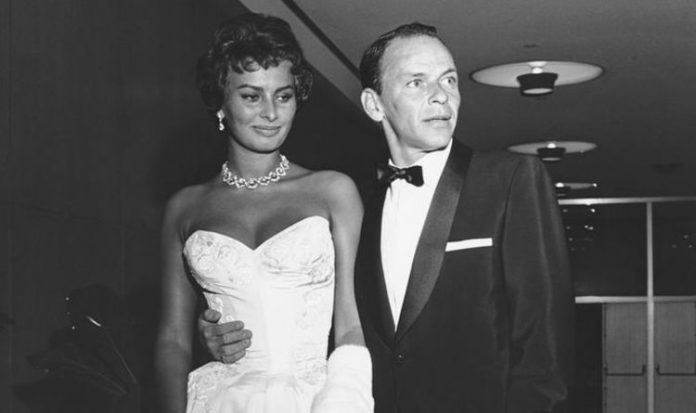 Academy Award winner Loren appeared on BBC's Desert Island Discs this week where she discussed her career and rubbing shoulders with some of Hollywood's finest actors and singers. The 86-year-old actor spoke candidly about shooting the 1957 hit movie The Pride and the Passion, where she became close friends with Sinatra.
The two stars played star-crossed lovers in the Napoleonic-era war movie as members of opposing sides.
Sinatra played Miguel, a battalion soldier from the British Royal Navy sent to Spain to retrieve a siege cannon from its inhabitants.
Loren played Spanish native, Juana, who was lusted after by Miguel and Captain Anthony Trumbull (Cary Grant).
During her interview on Desert Island Discs Loren revealed Sinatra was a little withdrawn during filming and "loved his trailer".
She said: "He used to stay in his trailer very often."
READ MORE: Frank Sinatra nickname: How did Frank gain his famous nickname?
Sophia then revealed: "He never sang on the set because [there were] many people.
"[I used to say] mi canto… por favor, for favor!"
Host Lauren Laverne asked: "Not even for you?"
Sophia replied: "No, no! [He would say]: 'We are shooting, we are shooting.' Okay, okay, ciao."
Despite Sinatra's apparent shyness, Loren previously said he was "very nice" on set.
Loren praised working with Sinatra and Grant on The Pride and the Passion – her first American film. She told the New York Times last year: "I worked with Cary Grant and Frank Sinatra when I was 22, still a kid.
"At the time, I saw the possibilities that came with working in English, even rotten English, because it was not my language. But the sound of talking and music is very dear to me, and I learned English right away. I had a wonderful time when I first made American films."
Loren also told of how Sinatra and Grant helped her with her English between takes.
She told Closer: "I told them right away: 'I don't speak any English, please help me,' and they did!
"They were beautiful. It was my first [American] film and I didn't speak one word of English, so it was very difficult for me."
DON'T MISS…
Elvis: Heartbroken family blasts 'Elvis is alive' stories in new video [INFO]
Elvis Presley hated snakes and 'shot at them' in Graceland [NEWS]
Elvis Presley punished his horse after it ruined a date with Priscilla [INSIGHT]
Loren added: "But they were really there to help, and in a very nice way."
After The Pride and the Passion Loren and Sinatra became life-long friends.
In 2014 Loren published a memoir titled Yesterday, Today, Tomorrow: My Life. It included a collection of "unpublished memories, curious anecdotes, tiny secrets told, all of which spring from a box found by chance, a treasure trove filled with emotions, experiences, adventures".
The box of forgotten artifacts contained unseen photos, pictures, letters and notes – some of which came directly from Sinatra.
Loren won the Academy Award for Best Actress in 1962 for her performance in Two Women.
In the movie she played a mother trying to protect her young daughter in a war-torn Italy.
In 1991 Loren was awarded an Honorary Oscar for her contribution to world cinema.
Desert Island Discs is available on BBC Sounds now.