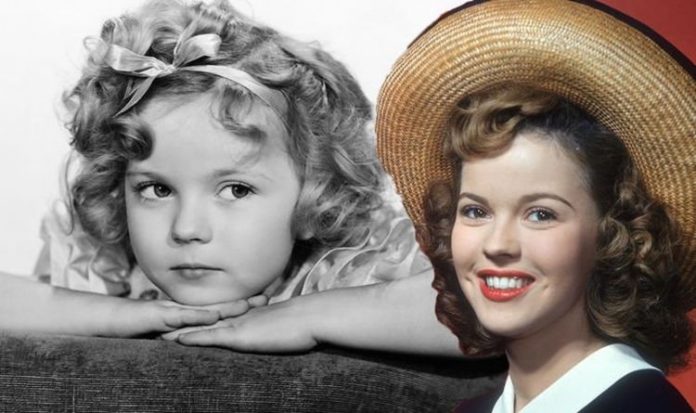 Shirley Temple's curly, golden locks and cute face were hugely popular in the 1930s. She performed as a child actress in some well-loved movies like Poor Little Rich Girl and Curly Top. After this, Shirley went on to take up some important roles in politics after retiring from acting, including that of United States ambassador to Ghana and to Czechoslovakia – but what happened to her?
How old was Shirley Temple when she died?
Shirley Temple was 85-years-old when she died on February 10, 2014.
Shirley was born on April 23, 1928 in California, and was encouraged to take up dance and singing lessons to develop her talents.
By 1931, when she was only a few years old, she was enrolled in a Los Angeles dance school, and her mother began styling her hair in the iconic ringlets fans know Shirley for.
READ MORE:  Pirates of the Caribbean casting: Is Davy Jones still alive?
She was spotted by a producer at Educational Pictures Charles Lamont and quickly put in a series of short films called Baby Burlesks, one of which was a parody of a Mae West film.
Shirley also modelled for various products before being lent to other film studios to work for them, then eventually, she began working with Fox Pictures on feature films.
She was the star and often had top billing on many of these movies, with her signature ringlets in place.
These features of Shirley's look were so iconic they even led to films being named after them, with Shirley starring in movies like Dimples, Curly Top, as well as a series of films known as the 'little pictures,' such as The Little Colonel.
Shirley was often seen playing a matchmaker to the adults in her life and was often a precocious young girl who seemed to understand the world better than her parents.
Shirley's breakthrough film was 1934's Stand Up and Cheer!, and by 1935, she was a bonafide superstar.
Due to her fame, the focus was on her work, so Fox hired specialist writers to become what was known as the Shirley Temple Story Development team.
She had personal stylists and bodyguards at her disposal and even a small bungalow built for her at the studio.
DON'T MISS
By this time, Fox Pictures had become 20th Century Fox and Shirley was making four films a year for the company, while also working with other studios like Paramount Pictures.
Shirley continued acting throughout the 1930s and 1940s, doing radio as well as film, though by the later years her popularity had decreased and she moved to MGM, but was released from her contract after one film.
She had roles in Fort Apache with John Wayne and Henry Fonda but retired from acting on December 16, 1950, age 22-years-old.
Shirley had married in 1945, aged 17, and had a daughter, but they were divorced by 1949 before she left acting.
In 1950, she remarried and focused on her family for some years before she made her TV comeback in 1958 with The Shirley Temple Storybook, where she narrated fairy tales.
After moving away from various TV series she was a part of in the early 1960s, Shirley became involved in politics as a Republican party member.
She ran to be the Republican candidate for Congress in 1967, but came second in the primary, but went on to work in foreign service.
She was appointed a UN delegate by President Richard Nixon, then the US Ambassador to Ghana by President Gerald Ford.
Shirley then served as US Ambassador to Czechoslovakia, appointed by President George H Bush, and also served as a board member to some huge organisations like The Walt Disney Company, Del Monte Food and the Bank of America, as well as the United States Commission for UNESCO.
She died at her home in California on February 10, 2014, aged 85, of chronic obstructive pulmonary disease (COPD,) which was likely caused by her lifelong smoking, which she concealed from the public.