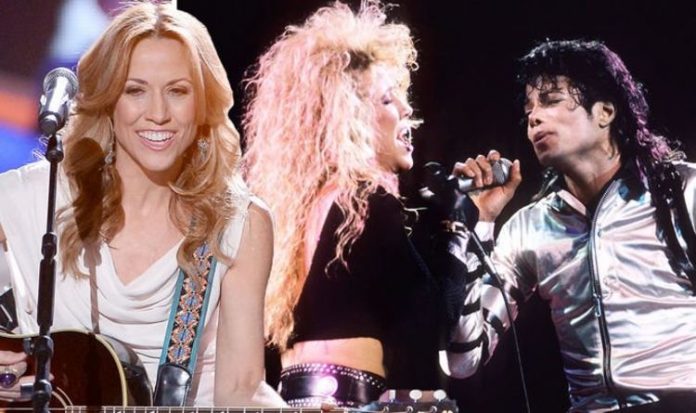 Sheryl Crow's country music has inspired young women for years, with her pop-inflected songs full of lyrical depth. However, while Sheryl is a bonafide pop/country singer, her start in the music industry looked very different indeed – and it was all thanks to the help of musical icon Michael Jackson.
Sheryl Crow was born in Kennett, Missouri on February 11, 1962, to musical parents.
She studied music and composition at university, after which she worked as a music teacher while singing in bands on the weekend.
Sheryl then started writing jingles, which helped her get her name out there, singing songs for companies like McDonald's and Toyota.
While this gained her some attention, nothing would prepare her for what she was about to encounter, as she managed to land a job as a backing vocalist for Michael Jackson's Bad tour.
READ MORE:  Johnny Cash prison: Did Johnny Cash ever go to prison? True story
The tour was a two-year engagement, starting in 1987 and ending in 1989 and included 123 concerts to 4.4 million fans across 15 countries, earning more than £100 million.
Fans of Michael will know one song on Bad, I Just Can't Stop Loving You, is a duet, originally sung by Michael and Siedah Garrett, a songwriter whose track Man in the Mirror also appeared on the album.
For the Bad tour, Sheryl was Michael's duetting partner and sang the emotional track with him on stage every night.
However, looking back on this time in 2019, Sheryl's recollections of the time are mixed, as while she remembers feeling starstruck by MJ, there were aspects of the time which she is now uncomfortable about.
Speaking to The Telegraph in 2019, she said: "It was a crazy experience. I mean, he was the biggest star of a generation and I got to sing a duet [I Just Can't Stop Loving You] with him every night for 18 months.
"He was very exacting and the shows were very rote – the polar opposite of the kind of spontaneous gigs I do now.
"But I had never been out of the US before and suddenly I was on stage in Japan, then we were all running around Disneyland Tokyo in the middle of the night like a bunch of 12-year-olds…"
Michael's exacting style meant his shows were filled with dancers, pyrotechnics and other aspects so each night would need to run like clockwork.
DON'T MISS
However, after the release of documentary Leaving Neverland, Sheryl looks back on certain things differently, having remembered seeing one of the documentary's subjects, James Safechuck, on the tour.
She told The Guardian in 2019: "I happened to turn on CNN the morning after the first half [of the documentary] aired, and they showed clips of the young man who was on the Jackson tour with us and it made me … I mean, I still feel really…
"It's like a death in the family, you know? It's sad. [James Safechuck] was a great kid and the whole time he was with us – which was the better half of an 18-month tour – I always wondered: 'What in the world are his parents doing?', you know?
"Honestly, I think… I think that there were a lot of exceptions made because of the damage that [Jackson] …
"I mean, he didn't intentionally project it, but it was part of his aura – this almost being untouchable and almost alien-like [figure].
"And, yeah, I mean, I'm sad, and I'm mad at a lot of people. I feel like there was just a huge network of people that allowed all that to go on. It's just tragic."
Sheryl also added she had not seen the documentary and would not be keen to watch it.
Despite singing on stage together a great deal, Sheryl added she did not believe Michael "knew my name," even when they met years later at the Grammys when Sheryl won an award for her own work.
She released her 11th solo album, Threads, in 2019 to critical acclaim, and said it would likely be her last album, as she felt long records were no longer required for 'a full artistic statement.'