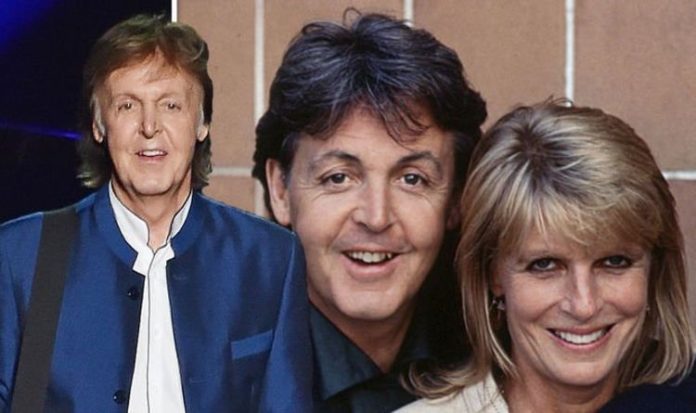 Sir Paul McCartney may be most famed for his music and lyrics, but his private life has also appeared in the news. Young fans were desperate to know who The Beatles were dating, who their wives were, and who was hanging around the band. So how many wives has Sir Paul had, and who are they?
While not his wife, the first woman to gain attention for being on the arm of Sir Paul McCartney was his first serious girlfriend Dot Rhone.
Their relationship lasted three years, after which he began dating actress Jane Asher in 1963 when The Beatles started to make it big.
Macca moved in with Jane at her parents' home in London, living there for more than two years before they moved into Sir Paul's own home in 1966.
The couple were engaged, but according to Bill Harry's book The Paul McCartney Encyclopaedia, Jane broke it off on discovering Paul's involvement with an American screenwriter, Francie Schwartz.
READ MORE:  Johnny Cash prison: Did Johnny Cash ever go to prison? True story
Arguably Sir Paul's most important relationship was yet to come, when he met Linda Eastman, a music photographer, in 1967 at a Georgie Fame concert.
The pair were married in 1969, but the wedding was almost derailed according to Sir Paul.
He told Barry Miles in Paul McCartney: Many Years From Now: "We were crazy. We had a big argument the night before we got married and it was nearly called off.
"We were very up and down, quite funky compared to the eventual image of '25 years of married bliss! Aren't they lucky for people in showbiz?' But we are.
"You get this picture of us swanning along in a little rowboat managing to avoid the white water, but we were right in the middle of that white water, man, so it's even more miraculous that we made it. But we did."
While they may have been happy, fans wept outside the church on their wedding day, showing how desired The Beatles truly were.
Linda's daughter from a previous relationship, Heather, was adopted by Sir Paul, and together the couple had Mary, Stella and James.
Some time later, in 2002, Sir Paul married Heather Mills, and the couple had one child in 2003, Beatrice McCartney.
DON'T MISS
The couple divorced in 2008 after separating in 2006, which gained a great deal of public attention, as did their divorce proceedings.
Sir Paul's current and third wife is Nancy Shevell, who he married in 2011 and with whom he has no children.
In 2004, Sir Paul spoke out about the public view of his relationships, saying the way he and Jane split back in the 1960s coloured the way fans viewed his relationships.
He also claimed fans were not keen on his choice of bride with Linda or Heather.
Sir Paul told the Sydney Morning Herald: "They didn't like me giving up on Jane Asher, it all started there…
"I married a New York divorcee with a child, and at the time they didn't like that.
"This time around, I married a younger woman, and they didn't like that. It reminds me of the stick Linda got."
Despite this, fans seem to be keen on his new bride, Nancy, as seen by their comments on his anniversary post on Instagram.
To mark their anniversary in 2020, Sir Paul shared an image of Nancy with the caption: "Congratulations Nancy on our 9th Wedding Anniversary. Thanks for 9 beautiful years of marriage.
"You are my rock and roll, you are my A side and B side, you are my verse and chorus. I love you. Paul"