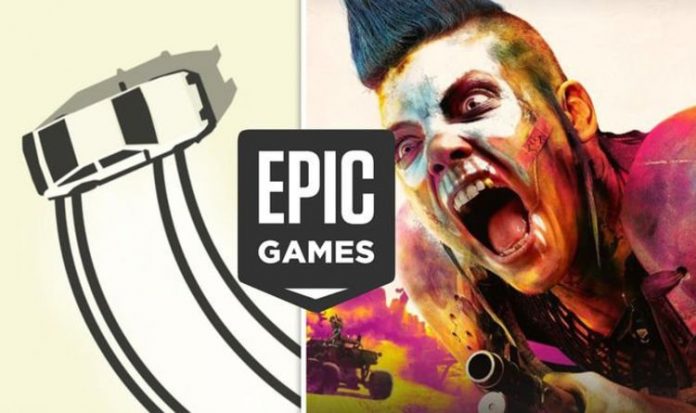 The next wave of free games have been revealed for Epic Games Store customers.
Epic gives away at least one free game a week as part of its ongoing battle with Steam.
Previous freebies have included everything from GTA 5 to Civilization 6, as well as Borderlands, Football Manager and Alien Isolation.
Customers who login now can download space role-playing game Halycon 6 until February 18 at 4pm GMT.
But it's next week's games that have really caught the eye, as Rage 2 and Absolute Drift join the free games line-up.
First-person shooter Rage 2 and minimalist driving game Absolute Drift will be free to download and play on February 18 until February 25.
The next batch of free games are announced at the same time as the Epic Games Store Showcase Sale.
The Showcase Sale features discounts on games such as Cyberpunk 2077, GTA 5, and Assassin's Creed Valhalla.
There are also discounts on various Star Wars games, Red Dead Redemption 2, and Godfall.
As for next week's free games, Rage 2 is the highest profile of the two, although Absolute Drift is enormous fun.
"This is a driving experience like no other," reads the official description. "Journey from apprentice to master drifter as you hone your skill in a gorgeous minimalist world.
"Push yourself to the limit on drifting tracks and wild mountain roads while you work to unlock trophies and elite events. Compete against ghosts of the top players in the world, or refine your skills by out-scoring your own ghost.
"Chill out to over 3 hours of original electronic music by C41 and NYTE as you challenge your driving skills at every turn until you finally master the art of drifting."
The game is available on practically every platform, including PS4, Xbox One, Nintendo Switch, iOS and Android.
Rage 2, meanwhile, is a stylish post-apocalyptic shooter published by Bethesda.
"Ruthless and bloodthirsty gangs roam the open roads and the tyrannical Authority seek to rule with an iron fist. As Walker, the last Ranger of the wasteland and a threat to their power, you have been robbed of your home and left for dead.
"Now you'll have to rage for justice and freedom. With ludicrous vehicle combat, super-powered first-person mayhem, and an open world full of emergent madness, you will tear across an unforgiving wasteland battling sadistic gangs to find the tools and tech needed to crush the oppressive rule of The Authority once and for all."
The game failed to make much of an impression at launch, despite some satisfying gameplay and inventive weaponry.