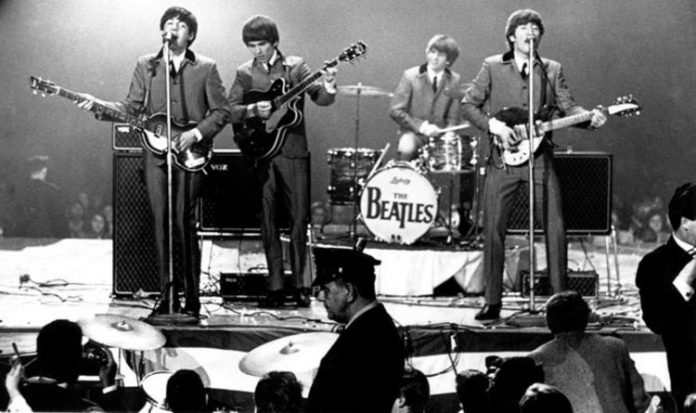 It was 57 years ago today that The Beatles performed their first US concert. On February 11, 1964, two days after their appearance on The Ed Sullivan Show, the Fab Four's American gig took place at the Washington Coliseum which had been set up for boxing. This meant that John Lennon, Paul McCartney, George Harrison and Ringo Starr had to perform in the unroped ring, which wasn't ideal as they'd only be facing 25 per cent of the audience at one time.
So in-between songs The Beatles had to stop three times to rearrange the microphones and turn Ringo's drum kit around.
Over 350 police officers surrounded the stage, with one finding the noise so loud he used two bullets for earplugs.
The 35-minute set saw The Beatles perform: Roll Over Beethoven, From Me to You, I Saw Her Standing There, This Boy, All My Loving, I Wanna Be Your Man.
Also: Please Please Me, She Loves You, I Want to Hold Your Hand, Twist and Shout, and Long Tall Sally.
READ MORE: The Beatles 'influential' first live performance on Ed Sullivan Show
Paul added: "They're hard. They stung, and we're playing in the round, and they're being thrown from everywhere.
"It was very unsettling. After that, we said the time has come for us to tell people we hate these damn things.
"They were only trying to be cute; throw the cute bits at the cute boys, that will be fun. But if you caught one of those in the eye, that was none too pleasant."
After the concert, The Beatles attended a reception at the British Embassy which Lennon ended up storming out of.
Ringo said in Anthology: "In the early 60s there was still a huge disparity between people from the North of England and 'people from Embassies'.
"But we went. God knows why. Maybe because we'd suddenly become ambassadors and they wanted to see us, and I think Brian [Epstein] liked the idea that it was big time."
But when an attendee cut off a lock of Ringo's hair, Lennon had had enough and just left.
He said: "I walked out, swearing at all of them. I just left in the middle of it." The ambassador's wife did her best to apologise for the behaviour of the other guests as The Beatles left the reception.