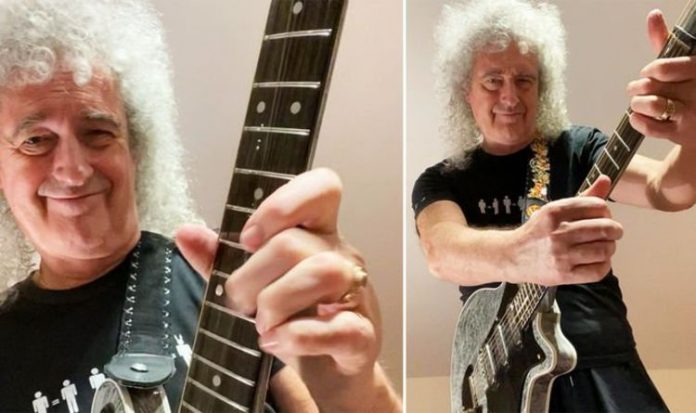 It's been almost a year since the UK entered its first lockdown. In that time Queen and Adam Lambert have seen their UK and European tour postponed twice to summer 2022. Nevertheless, the band has been keeping busy in the meantime with other projects at home; none more so than Brian May himself.
May has shared news on his Instagram account of working on new music in a project that's seen him working through the night.
Alongside a number of guitar pose photos in his loft at home, the 73-year-old wrote: "Videoing in my loft ! For my current project with Kerry [Ellis]… some of you know what that is !!! Swipe away !!! Happy Thursday folks !!! Bri."
While most recently he shared a snap of the sunrise at 7am from his roof terrace shared by some pigeons.
The Queen legend wrote: "Up on my roof, with my pals. It's been a while. I think we're all feeling thankful for the blue sky and sunshine."
READ MORE: Queen's Roger Taylor and Brian May on George Michael replacing Freddie
May continued: "Yes, I did miss most of it, because I insanely worked through the night until 7am.
"It seems my spirit is more or less permanently on LA time – but my body is anchored in the UK."
The 73-year-old also admitted he's finding being in a third lockdown hard but remains tenacious in getting through it.
He continued: "Hope you're all bearing up out there. I think the prolonged restrictions brought about by the mis-management of our response to this challenge to humanity are … now wearing us down."
Last year Express.co.uk caught up with Ellis, who has previously released albums with May.
During our conversation, we asked about future projects for the duo and the 41-year-old shared how they're working on a new record together.
The We Will Rock You alumni said: "Ironically, before the first lockdown we were in the studio three songs into a new album.
"This [Christmas song] was to put something out, keep the interest out there, and then hopefully when we can get back into the studio again we'll carry on with that!"
Ellis added: "It's been difficult but we're on the road to a new album…hopefully sometime next year maybe."
The singer also has an upcoming Queen Machine Symphonic UK tour which has been postponed to October 2021 due to the pandemic.
The new show sees Ellis team up with the top European Queen tribute band and the 15 piece London Symphonic Rock Orchestra.
She teased: "Fans get all the hits, they get everything they want to sing along to. There's also something slightly different with it because the songs that I'm kind of synonymous with like No-One But You, Love Of My Life and Somebody to Love, that have been part of my history [feature too]. And it's quite unusual to have an orchestra and a band on stage together. There's a bit of everything, the lighting is incredible!"