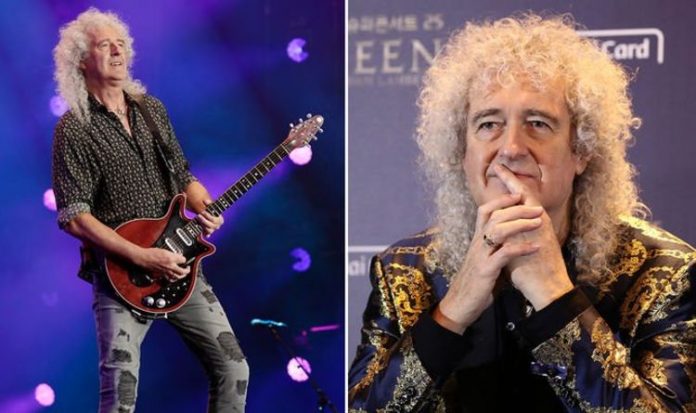 In recent years the super busy Brian May has suffered a number of health problems. Back in 2013, the Queen guitarist underwent knee replacement surgery, while just a year ago he had a "snip" made to his calf muscle. He wrote on Instagram at the time: "The theory is that it will release the excess tension in my Achilles' tendon and get me out of a painful heel situation I've been in for many months. I had the problem all through our last tour of the USA – and although adrenaline got me through, my running around was severely curtailed, and there were a couple of nights when I really couldn't move at all around the stage (nobody noticed, it seems !)."
But after touring through Asia and Oceania in the early months of 2020, May found himself back in hospital after tearing his Gluteus Maximus during a spot of gardening.
The tenacious 73-year-old shared his struggles with the pain on his social media accounts, while also bravely opening up on having had a heart attack.
But now after spending most of the year in lockdown, May is well on his way to recovery, telling Express.co.uk he exercises for at least 90 minutes a day.
May also shared details of his knee troubles during Queen and Adam Lambert tours.
READ MORE: Brian May health: 'Heart attack treatment has given me my life back'
May added: "It's given me my life back. I'm also grateful because it happened in this pandemic year and I'm able to take the time off to recover and devote my energies to regaining health."
While on his new fitness regime, which he says is like a religion to him, the star said: "I'm absolutely devoted to my physio every day of my life and building up the strength in my heart muscle and the rest of my body as well. It's actually a pretty good story on the whole."
When asked about Queen and Adam Lambert's new 2021 tour dates, the guitarist admitted it's "very unclear" how they will go ahead.
Nevertheless, the 73-year-old is focusing on his fitness for now and making sure he's in peak shape for the upcoming concerts.
May said: "First of all, I have to get fit and I'm doing well, but I need to do better. Probably another six months of rehab to get right back up to full strength."
Aside from his 90 minutes exercise every day, the rock legend allows himself one day of rest a week.
He added: "The rest of the time I'm going for it because you see the results. You have to keep moving. That muscle of your heart needs to be reconstituted because it's not going to happen on its own."
Queen and Adam Lambert's live album Live Around The World is out now.