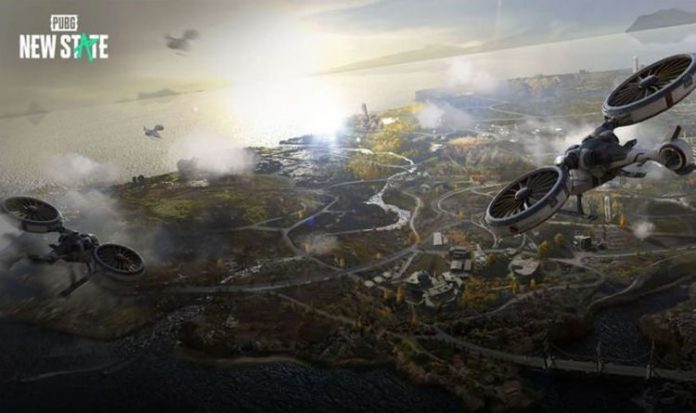 It looks like the rumours of a new PlayerUnknown's Battlegrounds game for Android and iOS were true, with PUBG New State announced today by Krafton Games.
PUBG New State is set in the year 2051, and will offer an upgraded mobile experience to gamers on Android and iOS.
The first bit of news we have is that New State will be set on a new map called Troi and will boast futuristic weaponry and gear.
This will mean being able to use drones and deployable cover while trying to remain the last person standing.
The good news is that PUBG Mobile New State has a release date scheduled for 2021; the bad news being that we don't know when it will drop.
Based on previous launches, PUBG New State could start beta-testing very soon, followed by a controlled rollout.
We would also expect PUBG New State to be a free-to-play game, supported by Microtransactions and a New State Battle Pass.
Gamers can head over to the official PUBG New State Play Store page and register their interest in playing.
The same option is not available on iOS but it sounds like things will be changing very soon.
A message from the PUBG New State team on social media confirms: "Pre-register on Google Play today to get the latest on PUBG: NEW STATE and be among the first to know about our future plans.
"Don't worry iOS users, we see you Eyes, pre-registration is coming at a later date."
The only drawback to this announcement is that not all regions have been given the chance to register their interest.
Reports from users in India suggest that PUBG New State is not available to register for via the regional Play Store.
This raises the question regarding whether the game will be launched in India, or if Krafton has other plans.
Here's a full rundown of what new features and gameplay will be included in PUBG New State:
Using diverse weapons and tactics, 100 survivors will face off until only one player or team remains standing. With an ever-shrinking Blue Zone, players must find weapons, vehicles, and consumables to gain the upper hand.
Ultra-Realistic Graphics that Push the Limits of Mobile Gaming
Graphics that surpass the standard of mobile gaming with Global Illumination technology.
Drop into massive open worlds that feature the most realistic graphics available for mobile gaming.
With next-generation mobile graphics, PUBG: NEW STATE delivers the full battle royale experience straight into players' hands.
Realistic and Dynamic Gunplay
Enjoy realistic gunplay optimized for mobile gaming.
Master different weapons and make each of them your own with weapon customization.
Next Generation Survival
Enjoy a variety of tools and features, including drones, combat rolls, and more.
Explore massive 8×8 km open worlds with a variety of vehicles.
Utilize a variety of weapons in order to swing the battle in your favor for a more immersive battle royale experience.
Expanding the PUBG Universe
Set in the near future, years have passed since the original game. In 2051, anarchy rules as numerous factions battle each other.
The competition has evolved into a new battleground featuring state-of-the-art technology that requires survivors to adopt new tactics to survive.