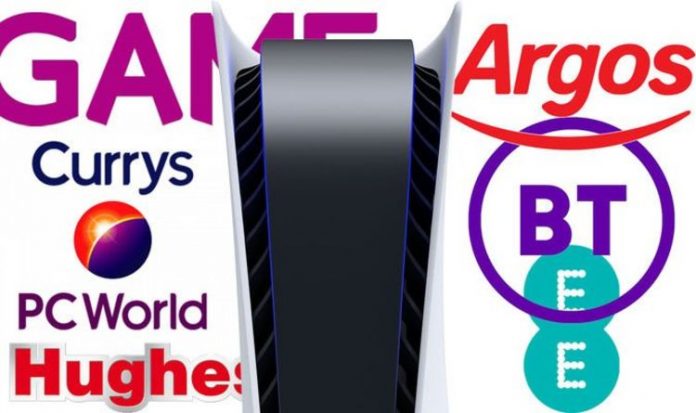 PS5 stock could become available to buy once again the UK soon. This month we've already seen plenty of PS5 restocks go live, with GAME, Argos, Amazon, Smyths Toys, Very, ShopTo, John Lewis and AO.com all taking PS5 orders once again. If you missed these chances to buy a PS5 then don't worry, this week is rumoured to see more PlayStation 5 restocks become available with new stock available to purchase online.
GAME and Currys are both rumoured to be taking PS5 orders once again this week.
While BT, EE and Hughes are also expected to be getting a PS5 restock, and Argos is rumoured to have more stock ready and waiting to sell.
News of the rumoured Currys, BT, EE and Hughes restocks come courtesy of the @PS5Instant Twitter account, who has been a reliable source of PS5 stock news in recent months.
Last week the account tweeted: "So looks like the Currys drop won't happen till the start of next week. This will be one of the last proper stock drops until the new stock shipment comes in between 8th and 15th March."
It then went onto add: "Currys, Hughes and BT + EE are likely to drop start of next week."
While we don't have an expected date for these restocks, GAME are rumoured to be opening PS5 orders once again on Tuesday.
This stock news was revealed by the @PS5StockAlertUK Twitter who posted: "News: GAME UK is set to go live with a PS5 drop this Tuesday 23rd February. This alone and the Smyths Toys drop explain that retailers have received or are receiving new shipments already. Let the late February/early March restock season begin!"
After this tweet was published GAME changed the release date of the PS5 on their order page to March 8.
And PS5 stock tracker accounts have said this is a further sign that PlayStation 5 orders could open once again this week at GAME.
The @PS5StockAlertUK Twitter posted: "GAME has changed their release date to 8th March, which proves me correct."
The account also said that GAME would have up to 15,000 PS5 consoles in their next restock.
While the @PS5UPDATEUK Twitter added: "GAME have updated their website which shows a release date of 8th of March. This means we could see GAME taking pre-orders next week if they're following previous patterns."
Elsewhere Argos are rumoured to have stock ready to sell, but it's unclear when this stock could become available to buy.
The @PS5UKStock Twitter claimed Argos only sold "half" of their most recent stock allocation during their restock last week.
The PS5 stock tracker account said Argos could have a "sizeable" number of PlayStation 5 units ready to sell during its next restock.
Tweeting out a picture of PS5 consoles in storage at an Argos location, the @PS5UKStock Twitter tweeted: "Our insider at Argos tells us that only half of their stock was sold on the last drop. Here's proof that a sizeable number of stock are still at the Hubs. We think they're holding these for the next drop".
As always with rumours it's best to take it with a pinch of salt.
However, if you are on the hunt for a PS5 make sure you're prepared for the next restock.
Have accounts set up at retailers that could be getting stock, and make sure you have your login details to hand – or are already logged into individual stores on the device you mainly use. Also be sure to set up alerts with stock tracker Twitter accounts so you get notified as soon as new PS5 stock becomes available to buy.
Express.co.uk will also be doing our best to keep you up-to-date on PS5 stock news and will be updating this story with more news as and when it breaks.