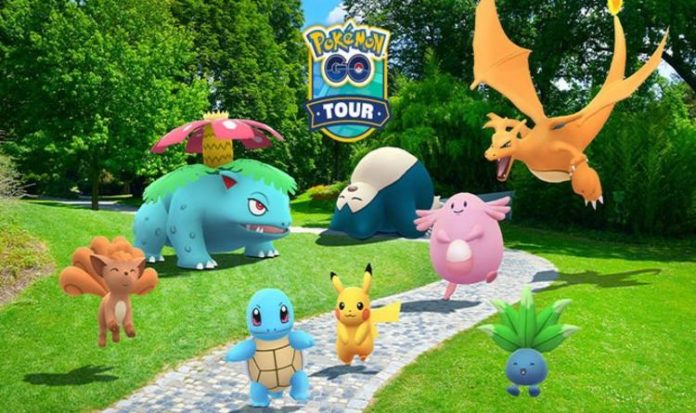 Niantic has announced its plans to hold its next ticketed event; the Pokemon Go Kanto Tour.
Taking place in early 2021, The Kanto Tour will cost money to take part in, although there will be free activities.
This will include more Kanto Pokemon spawning in the wild, as well as Articuno, Zapdos, Moltres, and Mewtwo returning to Legendary raids,
The best part of this will be the featured exclusive attacks, with Articuno having Hurricane, Zapdos boasting Thunder Shock, Moltres offering Sky Attack, and Mewtwo packing Psystrike.
And when it comes to the ticketed part, the Pokemon Go Kanto Tour is going to make it possible to unlock a Shiny Mew.
That's a pretty big deal for Trainers who are looking to boost their collection with one of the rarest finds.
The event will offer trainers the chance to complete a Special Research story which ends with a Pokemon encounter.
However, to unlock the Shiny Mew, Pokemon Go fans will need to complete this first research line and then move onto the Kanto Tour's second story.
This one will take longer to complete but will end with an encounter with the special Shiny Mew.
A message from Niantic explains: "All 150 Pokémon originally discovered in the Kanto region will be available as Shiny Pokémon, some of them for the first time!
"In addition, you'll be more likely to encounter certain Shiny Pokémon in the wild depending on the event version you selected.
"Check out the version overview below for more information.
Enjoy an event-exclusive Pokémon GO Tour: Kanto Special Research story, which you can complete to earn an encounter with a special Pokemon.
"Once you complete the first Special Research line, you'll be able to access a second event-exclusive Special Research story, meant to be completed over a long period of time, in which you'll embark on a long and challenging journey to discover Shiny Mew."
HOW TO GET A TICKET
The Pokemon Go Kanto Tour is going to start on Saturday, February 20, 2021, and run from 9:00 a.m. to 9:00 p.m. local time.
The Shiny Mew will be the main draw for many, but gamers will also get to enjoy catching other first-time Shiny Pokemon, as well as tickets for the January and February Community Day Special Research stories for free.
The Pokemon Go Tour: Kanto will also feature different versions of the ticketed experience, each with version-exclusive Pokemon. So, to collect the first 150 Pokémon originally discovered in Kanto, you'll need to trade with friends who have the other event version. To help with this, trade range will be increased to 40 km during the week of the event.
Niantic has also confirmed that tickets for the event can be purchased now by following these steps:
"Tickets are US$11.99 plus any applicable taxes and fees (or the equivalent in your local currency). Tickets cannot be purchased with PokéCoins. To purchase your ticket, follow these steps.
"In the in-app shop, tap the Pokémon GO Tour: Kanto image. Tap the Buy button. You'll then see a checkmark purchase confirmation indicating that you've successfully purchased a ticket for Pokémon GO Tour: Kanto.
"After the purchase, you can find the ticket in your Item Bag. A few weeks before the event, you'll be able to choose which event version you'd like to participate in by tapping the Pokémon GO Tour: Kanto ticket in your Item Bag and selecting your desired version in the resulting pop-up.
"When you open the app during the event hours on Saturday, February 20, 2021, you'll receive access to the Pokémon GO Tour: Kanto ticketed experience, including the Special Research story. After you've obtained the Special Research, you can complete it at any time."