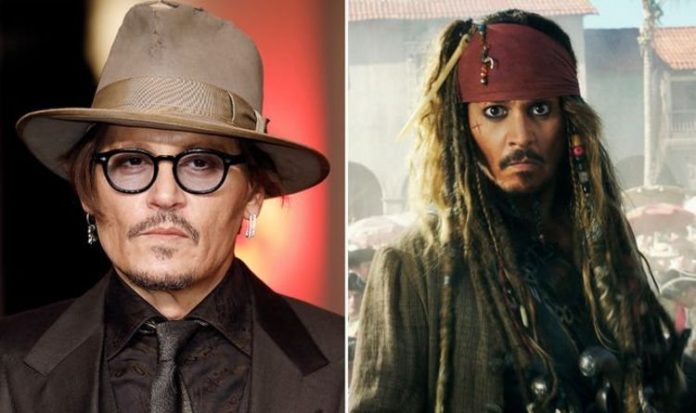 After losing his libel case, in which Johnny Depp strongly denied allegations of domestic abuse, the star's future in Hollywood has looked far from certain. Warner Bros asked the 57-year-old to resign from playing Gellert Grindelwald in the Fantastic Beasts movies, which he agreed to. Nevertheless, one of his Pirates of the Caribbean co-stars has come to his defence.
Greg Ellis played Lieutenant Commander Theodore Groves in three Pirates of the Caribbean movies and has continued to call for justice for Depp on social media and on his video podcast The Respondent.
Now the 52-year-old, who says he wants to stand up against cancel culture, has spoken more about his Pirates co-star's character from the Jack Sparrow sets.
Appearing in the Stevie J Raw video below, Ellis recounted a time when he and Depp were shooting Pirates in Hawaii.
The actors had had a tent set up for them to protect them from the sun so their level of tan would be consistent across different scenes in the movie.
READ MORE: Johnny Depp: Disney's 'FREAK OUT' over Pirates of the Caribbean star
Ellis laughed as he remembered a scene from Pirates of the Caribbean: The Curse of the Black Pearl when his tan changed swiftly within a few seconds of the movie due to shooting scenes next to each other in the script a long time apart.
Back to his set anecdote and the Groves actor said how in the tent Depp went out of his way in kindness to him.
The Pirates star said: "He was professional, friendly.
"I remember while filming one day, without me knowing during a scene, he had [his bodyguard] Jerry Judge move my chair next to his."
Speaking with Express.co.uk earlier this year, Ellis backed Depp to return for Pirates of the Caribbean 6.
The actor said: "I think for Pirates 6…in an ideal world, every character who the fans have fallen in love with will be able to come back to kind of wrap everything up. 
"Ultimately it comes down to screenplay and story.
"If Jack Sparrow isn't a key, if not the key element, to wrapping up a multi-billion dollar franchise, is it not akin to not having Captain Kirk in [the original] Star Trek?"
Ellis further praised Depp's performance as Jack Sparrow, for which he was nominated for an Oscar after the first film's release.
The Groves actor said: "Jack Sparrow's entrance in the first Pirates of the Caribbean movie was just beautiful in its simplicity.
"It exemplified so much. You have that hero shot at the top of the mast, holding on with one hand; he just looks like everything you optimise a seafaring piratical man to be.
"For me, that moment defined Jack Sparrow. It was so beautifully written and filmed."