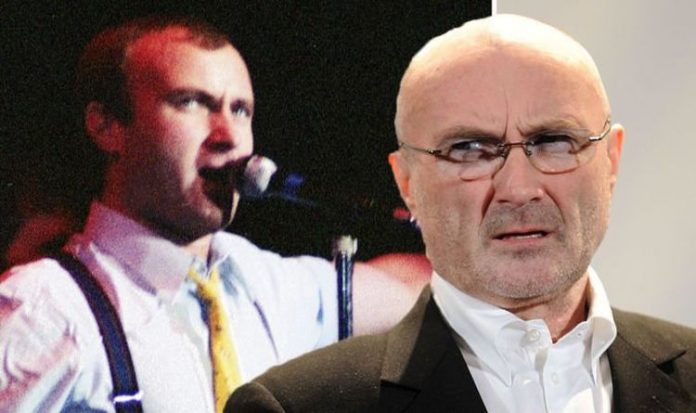 Phil Collins is a drummer who found success as the frontman to famed prog-rock band Genesis. He also released a great deal of solo work, and altogether his work earned him more US Top 40 singles than any other artist during the 1980s. He is celebrating a big birthday today (January 30) so how old is he and what is he up to these days?
How old is Phil Collins?
Phil Collins is 70-years-old today, having been born on January 30, 1951.
The English musician was born and raised in London and began playing the drums when he was a child.
This passion grew in him as he learned more about music, becoming a big fan of The Beatles and their drummer Sir Ringo Starr.
READ MORE:  Playlist for working from home: Taylor Swift to Ariana Grande
As a teenager he started performing in small acting roles in TV and stage, appearing in his idols The Beatles' movie A Hard Day's Night as an extra.
He gravitated towards music, however, and eventually started playing drums in John Walker's backing band before forming his own group, Flaming Youth.
Not long after, Genesis began advertising for a drummer after the departure of John Mayhew, and Phil was given the job.
From 1970 to 1975, he was their drummer and backing vocalist, but this was soon to change with the departure of the band's frontman, Peter Gabriel.
The band initially tried to hire a replacement for Peter but eventually Phil took on the role of lead vocalist, and soon drummer Bill Bruford began touring with them, to free Phil up at the front.
While Peter's departure was at first considered an incredibly worrying prospect, Phil's stint as the lead singer was hugely successful, and saw them break America in a new way.
After more line-up changes, in 1978, Genesis went on hiatus and Phil made his debut as a solo artist, having gained prominence as a singer during his band days.
Phil's first album Face Value was a major success in the charts, and was lyrically incredibly emotional after the breakdown of his marriage.
DON'T MISS
Genesis came back together for another album in 1981, after which Phil released his second album, Hello, I Must Be Going!.
In between his various work, Phil also contributed to music from other artists, playing with a wide range of people from Robert Plant to Anni-Frid Lyngstad of pop group ABBA.
In subsequent solo work he had many high-ranking singles, one of which was featured in the song of the same name, Against All Odds.
Against All Odds won the Grammy Award for Best Pop Vocal Performance, Male in 1985, and was nominated for Song of the Year at the Grammys as well as for an Academy Award and a Golden Globe for Best Original Song.
He then released No Jacket Required, his most successful solo album, though some criticised it for being too 'commercial' compared to his work with Genesis.
In 1996, Phil left Genesis after more band and solo work, and joined up with Disney to write songs for the animated movie Tarzan, with the song You'll Be in My Heart winning him the Oscar and Golden Globe for Best Original Song in 2000.
In the 2000s and 2010s, Phil dipped in and out of retirement, as well as reuniting with Genesis and writing an autobiography.
In 2020, he was expected to go on tour with his Genesis bandmates Tony Banks and Mike Rutherford, however the Covid-19 pandemic delayed this.
Instead, the tour will take place in September 2021, with Phil's son Nic playing the drums.