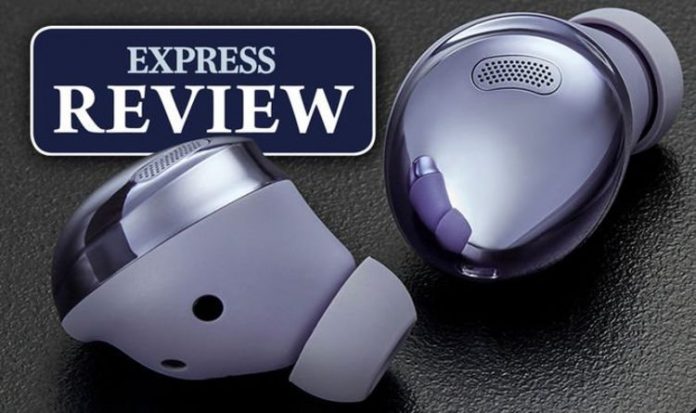 Galaxy Buds Pro review (Image: SAMSUNG)
After the launch of the Galaxy Buds+ and the bean-shaped Galaxy Buds Live last year, Samsung is back with yet another pair of wireless earbuds. Dubbed Galaxy Buds Pro, these new wireless earbuds are clearly designed to take aim at Apple's AirPods Pro – and it's not just the "Pro" name they share in common. Both featuring noise-cancelling technology, similar battery life, and a price tag of over £215. The new Galaxy Buds Pro have just gone on sale, but Express.co.uk has had them wedged in our ears for the past few weeks. Here's what we think of them and whether they can stand toe-to-toe with the brilliant AirPods Pro from Apple.
Samsung Galaxy Buds Pro review: set-up and design
If you're already fully invested in Samsung's ecosystem of gadgets, the first thing you'll notice with the Buds Pro is just how easily they pair with your phone. We tested these wireless earbuds with Samsung's new Galaxy S21 and the whole connection process took a matter of seconds. And you don't even need to dig around in the Bluetooth menu in Settings – everything is handled with a notification as soon as open the charging case for your new 'buds.
Honestly, it's so simple it shouldn't faze even the biggest technophobe.
Simply unbox the Buds Pros from their packaging, open the charging case and hold them near your Galaxy phone. Samsung then does the rest with easy-to-follow instructions appearing on the screen. It's all very similar to Apple's AirPods setup, which is a good thing.
Unfortunately, like the AirPods, which only offer this hassle-free pairing option on iPhone, Google Pixel, Sony, OnePlus or other Android smartphone owners will have to venture into the dreaded Settings menu to start pairing. Likewise for iPhone owners who fancy a pair.
The sounds quality of the Galaxy Buds Pro is excellent (Image: SAMSUNG )
Once connected, the next thing you'll notice is just how comfy the Galaxy Buds Pro are in your ears. Samsung supplies numerous rubber tips in the box which means that all ear shapes and sizes should be catered for although, unlike the AirPods Pro, there's no autosensing technology to tell you which tips are offering the best fit.
We've had the Buds Pro plugged in for hours on end and not felt any discomfort, in fact, there have been times we even forgot we were wearing them. The design makes them extremely light and easy to push inside the ear and the glossy casing adds a bit of bling for the more fashion-conscious.
Samsung has also now includes improved IPX7 water resistance, which means they should survive the British weather and visits to the gym when we get out of lockdown.
The charging case feels a little cheap and nasty (Image: SAMSUNG)
Galaxy Buds Pro review (Image: SAMSUNG)
Samsung Galaxy Buds Pro review: sound quality
Of course, the most important part of earbuds is how good they sound and Samsung has nailed the audio credentials with the Buds Pro. Powering these diddy music-makers is an 11mm woofer and 6mm tweeter with the team at audio brand AKG offering its usual tuning expertise.
Music sounds packed with detail with plenty of bass, clear vocals, and a rich depth – something you wouldn't expect given the size of the buds.
In fact, you get a real sense of space when listening on the Galaxy Buds, with some songs sounding as good as wearing over-ear cans. Yes, the sound is really that good.
There's also the inclusion of multi-dimensional sound via 360 Audio settings with Dolby Head Tracking technology. This mimics cinematic sound surround and is a nice addition especially when watching movies whilst wearing them.
To help boost things further there's some excellent intelligent Active Noise Cancellation, which blocks out most background sound. Samsung has been clever with this ANC as it's fully customisable to your tastes and situation. That means if you actually want to hear some sounds, other than the music, you can quickly adapt things via the app on your phone – there are actually four levels of ambient sound settings so you should be able to find the perfect match for your surroundings.
The bGalaxy Buds Pro feature an 18-hour battery life (Image: SAMSUNG)
The Buds Pro come in three colours (Image: SAMSUNG)
Another nice extra is something called Voice Detect, which knows if you're talking and immediately kills the Active Noise Cancellation. That's important as it means you'll be able to hear yourself speak, so won't be yelling into someone face because your playlist is booming and ANC is on.
This clever little feature, which isn't available in rival earbuds from Apple, Google or OnePlus, means you can head into a cafe to pick up your morning latte without needing to take Buds Pro out of your ears. It works really well with the sound then switching back the minute you end a conversation.
Something else Samsung has added with this iteration of its Galaxy Buds is easy switching between Galaxy devices. That means you can be watching a movie on your tablet and then instantly take calls on your phone without having to check or change the Bluetooth settings.
Like all wireless earbuds the new Pros arrive in a neat little charging case with a total on 18 hours of playback available with ANC switched on – this rises to over 24 hours with the noise cancelling turned off. It's not the greatest battery life but matches most of the competition.
Our only complaint about the charging case is that it feels a little cheap and nasty, which isn't great considering the £219 price tag. Mind you, this is an issue we also levelled at the AirPods Pro, compared to their noise cancellation-less counterparts.
The Buds Pro are now IPX7 water resistant meaning they should cope with spills and the weather (Image: SAMSUNG)
Along with that case, we also found an issue with the Buds Pro touch controls, which don't always feel that responsive when tapping the side of the buds. In fact, we actually stopped using them and headed straight to the app to switch off theses controls entirely.
Another annoyance is the auto-pause when you take one of the Buds out of your ears. Sometimes this worked perfectly but at other times the music kept on booming out which is mildly irritating.
One final thing to note is that, like Apple's AirPods, the Galaxy Buds Pro work best within their own ecosystem. We've never really recommended AirPods to non-iPhone users and the same can be said for these latest music makers from Samsung. If you have a Galaxy device in your pocket then they get a big thumbs up but you won't get the same experience if you use a rival phone.
Galaxy Buds Pro cost £219 (Image: SAMSUNG)
Samsung Galaxy Buds Pro review: final verdict
PROS • Great sound and noise cancellation • Easy connection • Great app for tweaking settings • Useful extras such as Voice Detect and IPX7 water-resistance
CONS • Feel a little pricey • Case could be more premium • Best for Galaxy smartphone owners
With the Galaxy Buds Pro, Samsung fans get an experience that's just as good as the Apple AirPods Pro. The setup is easy peasy, the earbuds sound great, and the clever noise cancellation means your music won't be drowned out by the sounds of daily life.
Galaxy Buds Pro are also supremely comfortable to wear, look good, offer IPX7 water resistance and the app packs a bucketload of options to customise the sound and features.
After a few weeks of listening, we've got very few complaints about the Galaxy Buds Pro, although at £219 they are pretty expensive, the touch controls are annoying, and we'd prefer the charging case to feel as premium as the design of the 'buds themselves.
They are also at their best when used with a Samsung-branded smartphone, and we wouldn't really recommend to fans of rival devices especially iPhone owners.
All in all the Buds Pro are a solid effort from Samsung with the firm hitting all the right notes. If you've got a Galaxy smartphone in your pocket, these are definitely worth considering if you're looking for some great-sounding noise cancelling earbuds.