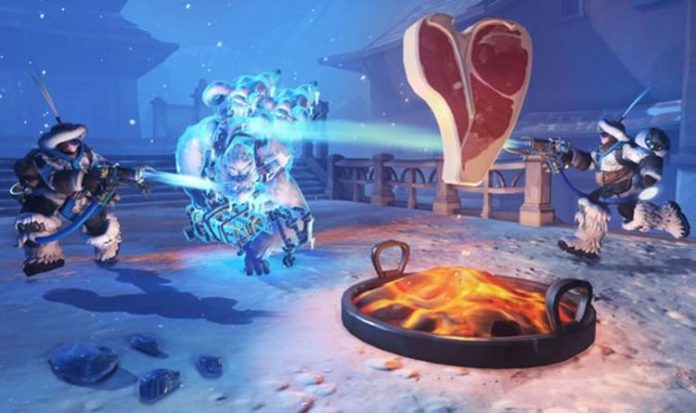 While gamers expected some kind of announcement last week, the information shared by the development team was very low-key.
The good news is that some basic information regarding the Overwatch Winter Wonderland release date was provided.
Overwatch Community Manager, Josh Nash, confirmed that the final hero update had been launched.
Things are slowing down at Blizzard HQ; however, that doesn't mean a long delay is being planned for the next Overwatch event.
And while we didn't get a full release date schedule, it looks the Overwatch Winter Wonderland release date is coming this week.
The message from Nash reads: "Hey everyone, today's patch was the final hero balance update of 2020.
"As we approach the Holiday season, our patch cycle will be slowing down a bit to allow the team to spend time with their families.
"We will work hard to get an Experimental patch up within the first few weeks of January, after which point, we'll continue our regular cadence of balance patches.
"We still have a few patches coming your way this month, so be on the lookout! Winter Wonderland is just around the corner and we've got an awesome PTR coming up as well. Wishing you all a happy and safe Holiday season."
So far, there have been no new leaks or hints from Blizzard regarding what they have planned for the end of the year.
But that could all change in the coming days with an announcement from Blizzard.
OVERWATCH WINTER WONDERLAND RELEASE DATE
The 2020 Overwatch Winter Wonderland event release date looks set to be shared this week by the development team.
Past events have been announced early in December, meaning we're overdue news from Blizzard.
Other Winter events have kicked off on December 10, meaning an update could be provided any day now.
Based on past releases, the 2020 Overwatch Winter Wonderland could begin between December 15 and December 17, across PS4, Xbox One and PC.
As with all Blizzard events, fans can expect the action to kick off at around 7pm UK time, and will likely run from December to the beginning of January.
The best thing about seasonal Overwatch events is that they give players the opportunity to bag new items.
This includes a lengthy list of new and returning skins available as part of special seasonal loot boxes.
In addition to new skins, emotes and other unlockables, Winter Wonderland adds the Yeti Hunter game mode and Mei's Snowball Offensive, with full descriptions below:
YETI HUNTER…
This 6-player brawl sets five Meis against one Yeti player who uses Winston's abilities. The Yeti must gather meat to unlock a powerful Primal Rage ability, making him immune to Mei's freezing abilities and granting other more powerful bonuses to eliminate the hunters.
Mei players have a new tool in their arsenal, too: a "Yeti Trap" ultimate ability to root their quarry in place. Yeti players must survive long enough to eliminate enemy Meis before they take him down. Which side will emerge victorious from the snow?
MEI'S SNOWBALL OFFENSIVE…
In this brawl, Mei's Endothermic Blaster has been modified to fire a single, super-powered snowball. Taking down an enemy only requires one hit, but a miss can be costly. Once your weapon is empty search for the nearest snow pile to reload.
When the battle starts to heat up, you can activate Mei's Ultimate, which turns her blaster into an automatic snowball launcher, allowing you to fire continuously as your enemies scatter.