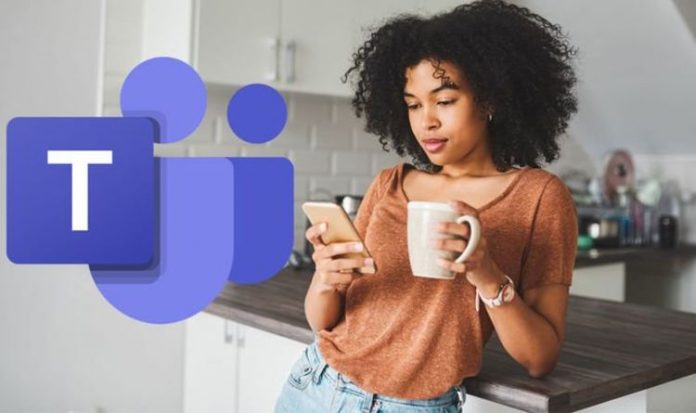 Flexible working solutions have become increasingly important in 2020, with scores of people having to work from home due to the coronavirus pandemic. And services such as Microsoft Teams have been at the forefront of helping keep people working from home stay connected digitally – despite being many miles apart. As more and more people have turned to Teams, Microsoft has continued adding to the web conferencing service's features list – and the latest inbound addition could be a godsend.
Picture the scene – you're at home on an important call on Microsoft Teams on your desktop PC when suddenly the doorbell rings and no one else is around to answer the call.
Usually in this scenario you'd have to excuse yourself, step away from your computer and rush to the door and then quickly skedaddle back.
But in 2021 Microsoft are making it easier to move your calls in between mobile and desktop devices.
As revealed in a blog post, next year Microsoft Teams will let you easily transfer calls between the service's mobile and desktop apps.
READ MORE: Use Google Chrome, Edge or Firefox? Watch out for this nasty malware
Microsoft explained: "Teams makes it easy to place and receive calls from several different endpoints, including desktop and mobile devices, but sometimes you need to move locations or devices to finish your call.
"Starting in early 2021, you will be able to shift your calls between your mobile and desktop endpoints with an easy-to-use interface on the Teams app."
The news comes as Microsoft outlined a raft of new enhancements to calls feature on Teams.
First up, the Teams calling experience has been streamlined with call history, voicemail, contact and the dial pad all now together in a single tab on Teams.
While it's now easier to record your calls, with Teams admins able to now save recordings directly into OneDrive or SharePoint.
This should make it easier to save recordings of calls and offer quicker access to transcripts.
Microsoft has also announced that Apple's CarPlay will be getting Teams support, so you'll be able to use your vehicle's built-in controls to operate Teams, including asking Siri to place or answer calls.
While Microsoft Teams is also getting smarter at identifying any potential spam calls, to help minimise any disruption to your workday from unwanted numbers.
The Windows 10 makers said these enhancements come amid huge demand for Teams Calling.
They explained: "Earlier this year, IT leaders around the globe were forced to reprioritise their roadmaps, resources, and budgets to equip employees for remote work practically overnight.
"Suddenly, the use of video communications skyrocketed. People adjusted quickly to moving meetings online, but one of the most notable challenges driven by the shift to remote work has been to maintain the personal connections that come from the ad hoc and serendipitous conversations that happen in the physical office.
"In fact, studies show that a person's voice is the signal that builds personal connections and creates clarity, which is why actually speaking with colleagues and customers is more important now than ever.
"The use of Teams Calling has skyrocketed as well, with Teams users making over 650 million calls in October, up 11 fold over March of this year. And on average, calls are just one-fourth the length of a typical meeting, making calling a quick and efficient way to reconnect and collaborate."