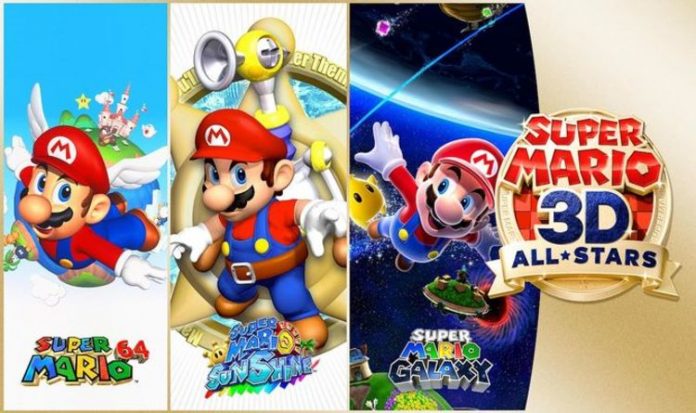 There's bad news for Switch fans this week, as Nintendo reiterates plans to remove a popular game from the eShop.
To celebrate the 35-year anniversary of the Super Mario series late last year, Nintendo released the Super Mario 3D All-Stars collection for Switch.
Super Mario 3D All-Stars contains remastered versions of Super Mario 64, Super Mario Sunshine, and the original Super Mario Galaxy.
Unfortunately, however, there's one big catch when it comes to the availability of the popular Switch release.
As previously reported, the 3D All-Stars Collection will only be available to purchase until March 31, 2021.
This includes both the digital version from the Nintendo eShop, as well as the physical edition.
Sadly, despite selling millions of units since last launching last September, Nintendo has reiterated plans to remove the game from sale.
That's according to a recent tweet from the official Japanese Nintendo Twitter account. 
READ MORE: Super Mario 3D All-Stars Switch REVIEW – A collection of classics with one or two caveats
Fans will be able to pick up a physical copy of the game from the likes of eBay, although prices are likely to rise as the years go by.
In addition to Super Mario 3D All-Stars, Nintendo will also remove the Super Mario 35 Battle Royale game.
Likewise, Nintendo will cease production of the fantastic Game and Watch: Super Mario Bros. device.
The decision to remove Super Mario 3D All-Stars from sale is a little surprising given its popularity.
According to the most recent sales figures, Super Mario 3D All-Stars has sold more than 8 million units.
While it's not necessarily the best re-release in terms of additional features, the quality of the games on offer means Nintendo could quite easily sell double this amount.
"Discover three of Mario's grandest 3D adventures with Super Mario 3D All-Stars on Nintendo Switch!" reads the official description.
"This special bundle includes Super Mario 64, Super Mario Sunshine and Super Mario Galaxy, all optimised for Nintendo Switch with updated HD graphics, Joy-Con controls, as well as a music player featuring the epic soundtracks from all three games!"