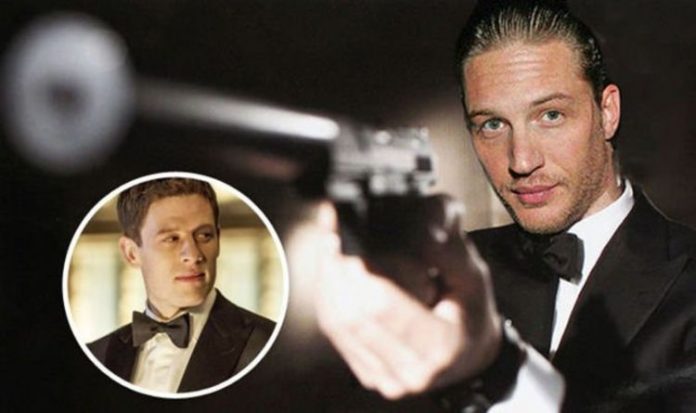 Overnight James Bond fans heard that No Time To Die will be delayed for a fifth time to October 8, 2021. As the news hit, bookies are now reporting a two-horse race among the top contenders to replace Daniel Craig. According to Ladbrokes, Tom Hardy and James Norton are now joint-favourite on 2-1.
A spokesperson for the bookmakers said: "As No Time to Die looks set to finally be released in October this year, Bond betting is hotting up and it's a tight two-horse race between Norton and Hardy at the moment."
Hardy and Norton have been favourites for quite some time but are now seeing competition from some new contenders. Most recently Regé-Jean Page won over Bond fans in Netflix period drama Bridgerton.
As it stands, the 31-year-old is just behind the frontrunners to take up the Licence to Kill next, with odds of 5-1.
Ladbrokes added: "Money talks, and it's clear that punters would love to see Page swap his role as the Duke of Hastings for 007."
READ MORE: Led Zeppelin's Jimmy Page played on James Bond theme Goldfinger
Meanwhile, Luther star Idris Elba and Outlander's Sam Heughan are on 6-1 and further back is Peaky Blinders star Cillian Murphy on 10-1.
Plus Jamie Bell and Superman himself Henry Cavill are behind on 12-1.
Of course, Bond producers have said they're focused on No Time To Die for the time being, so Bond odds, as fun as they are to speculate over, should be taken with a pinch of salt.
But what can be said for certain is there will not be a female version of Ian Fleming's character, Nevertheless, franchise boss Barbara Broccoli is totally open to an actor of any race.
Speaking with Total Film, the 60-year-old said: "It will have to be reimagined, in the way each actor has reimagined the role.
"That's what is so exciting and fun about this franchise; the character evolves. Eventually, when we have to think about it, we'll find the right person."
Promoting his new book The Lost Adventures of James Bond, 007 expert Mark Edlitz told Express.co.uk of why he believes the producers will push the boundaries once again.
On the Bond movie writing process, he said: "Three-time Bond screenwriter Bruce Feirstein told me that Barbara Broccoli and Michael G Wilson know where the dead ends are in the scripting stage."
Edlitz added: "While Richard Maibaum, who wrote 13 Bond scripts, talked about the collaborative nature of writing a 007 film. The screenwriter said that he would sit in a room with producers Albert 'Cubby' Broccoli, Harry Saltzman, as well as the director, production designer and editor and everyone would pitch ideas.
"Everyone I've spoken with said that the producers are collaborative and are welcoming of new ideas. However, they've been down this road so many times and they have a responsibility to protect the long-term interests of the franchise.
"The Daniel Craig Bond films took risks that to some would seem unfathomable years before.
"I think EON is clearly interested in experimenting and pushing the boundaries in what is expected in a Bond film."