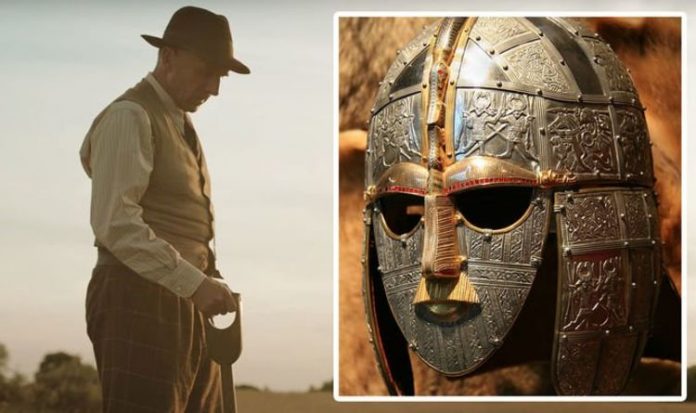 The streaming platform will release their new production later this month depicting the famous finds in Woodbridge, Suffolk. The site was at the centre of an extraordinary breakthrough in 1939 on Edith Pretty's property. Archaeologist Basil Brown uncovered two early medieval cemeteries that dated from the sixth to the seventh centuries – including one which had an undisturbed ship burial with a wealth of Anglo-Saxon treasure.
Dr Sue Brunning is the curator of Early Medieval Europe Collections at the British Museum – where most of the artefacts are now held – and she told Express.co.uk how they worked with Netflix.
She said: "We had a few people from the cast and crew come to the museum to have a look at our archives and do some research.
"We also had the art director and the man who made some of the props.
"We have a huge collection of photographs taken during the excavations – they looked at those and the artefacts in great detail.
"They appear to have put those into excellent practice.
"The reconstruction of the excavation is incredible. I've been to the set, I was imagining it would be a section of the ship."
The new Netflix release is directed by Simon Stone and based on the 2007 novel of the same name by John Preston.
It will be available to stream on Netflix from Friday, January 29.
The cast is led by Carey Mulligan, an Oscar nominee who plays Mrs Pretty.
READ MORE: Archaeology discovery: Missing piece of 'England's greatest treasure' lost during WW2
"He sees a boat sailing past and there's this moment where you can see that he is imagining the ship he has found would have sailed in that same water.
"It really nailed what Basil Brown would have been like. I think they did a lovely job."
Ms Mulligan's character was born into an affluent family and educated at Roedean. 
Mrs Pretty travelled extensively throughout her youth, visiting Pompeii, the Egyptian pyramids, tombs and monuments at Luxor, and other significant digs with her father, who himself excavated a Cistercian abbey adjoining their home at Vale Royal.
Intrigued over the possibility that the mounds near her home could be hiding treasures, Ms Pretty decided to excavate them.
And Dr Brunning said her curiosity led to "the most important discovery that we have from this period".
She added: "It changed our understanding of the period completely.
"There have been other discoveries from this period, but they are quite well-known too.
"The key one is the Staffordshire Hoard which actually has quite a lot of links to Sutton Hoo – the metalwork has a lot of parallels.
"That is a good example that there are, undoubtedly, more discoveries to be made."
Ms Mulligan will appear on The Graham Norton show tonight, where she will likely discuss the role in the upcoming Netflix show.
She is currently on the campaign trail hoping to secure her second nomination for Best Actress at this year's Academy Awards.
It comes hot off the success of her new movie 'Pretty Young Woman' where she plays Cassie – a 30-year old woman working in a coffee shop, whose life is tossed into turmoil.