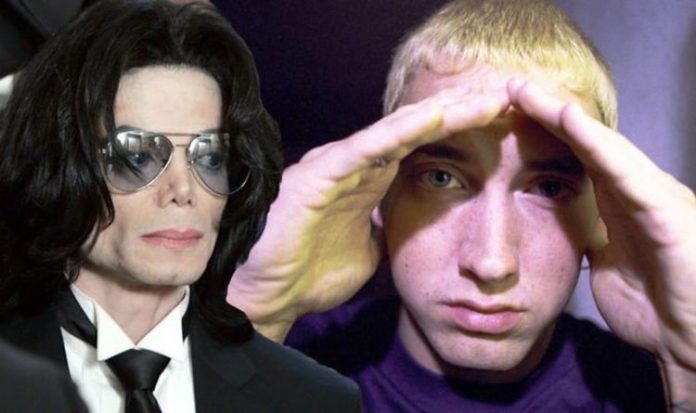 In 2003 Jackson was charged with child molestation, prompting the Santa Barbara County's Sheriff's office to raid his home, Neverland Ranch. While the trial for the charges didn't begin until 2005, the accusations were enough to taint the public opinion of Jackson for the remaining five years of his life. In 2004 Detroit rapper Eminem released his smash-hit song Just Lose It, followed up with a music video. This video depicted a caricaturised version of Jackson, mocking the artist's face and a traumatic accident that happened to him years prior. 
In the song's lyrics, Eminem raps: "Come here, little kiddie, on my lap. Guess who's back with a brand new rap? And I don't mean rap as in a new case of child molestation."
The video sees Eminem dressed up as Jackson before his nose appears to fall off – a reference to the Billie Jean singer's plastic surgery on his nose.
The character is later seen getting his hair caught on fire, which references Jackson's real hair being catching fire during the filming of a Pepsi advert in 1984, leaving him with some severe burns.
Eminem's song and video were both extremely successful – but Jackson was very unhappy about being made fun of so publicly.
Speaking in an interview with a Los Angeles radio station, Jackson announced: "I am very angry at Eminem's depiction of me in his video.
"I feel that it is outrageous and disrespectful. It is one thing to spoof, but it is another to be demeaning and insensitive."
Jackson added: "I've admired Eminem as an artist, and was shocked by this. The video was inappropriate and disrespectful to me, my children, my family and the community at large."
The Thriller singer also said in another interview: "I've never met Mr. Eminem, and to have – I've always admired him – and to have him do something like that has been pretty painful."
Shortly after, Eminem was asked about this music video, and his thoughts on how he made Jackson upset.
Eminem simply responded: "I apologise for that."
Three years later, in 2007, Jackson's company Sony/ATV purchased the publishing company Famous Music for $370 million.
This purchase meant that Jackson actually owned all of Eminem's back catalogue – until his death in 2009.
The newly-owned music included that of Just Lose It – however Jackson didn't ever make any changes to the music.
Eminem had the publishing rights to his music returned in 2016, long after Jackson's death.
Jackson also owned the publishing rights to The Beatles' music at the time, as well, after buying them up in 1985.
READ THE GUARDIAN'S REPORT