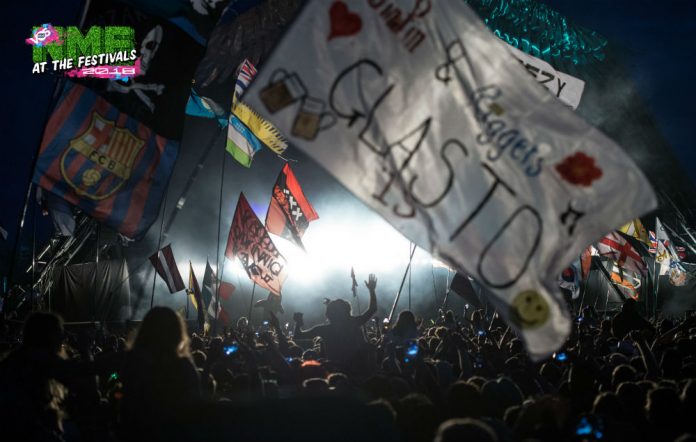 [ad_1]

Karma, karma, karma, karma, karma chameleon
Michael Eavis has dropped a hint when it comes to who he has in mind for the coveted legends slot at Glastonbury 2019.
The afternoon slot – which takes place on the Sunday of the festival every year – has hosted the likes of Dolly Parton, Shirley Bassey, Tom Jones, and Lionel Richie in the past. It's now a firm tradition at the iconic Worthy Farm festival.
Michael Eavis was attending the week-long Bath Boules event in Somerset last week, where he hosted a night called  'an evening with Eavis'. During the event he spoke to attendees about his experiences organising the huge festival, and screened a documentary about the history of Glastonbury.
As Somerset Live points out, one event attendee took the chance to grill Michael Eavis for line-up tips, and asked the Glastonbury boss about the likelihood of a legends slot from Boy George
"I suggested to Michael Eavis last night that you and Culture Club  would be perfect for the Sunday afternoon Legends slot," wrote Jamie Jamal on Twitter. "He thought it was a great idea!"
Culture Club certainly fit the bill for a legend slot. The 80s group, fronted by Boy George, scored a number of hits; their biggest by far being 'Karma Chameleon'.
Glastonbury is set to take a year off this summer, in order to allow the grounds to recover. Known as a Fallow Year, Emily Eavis recently shared a photo of the area around the Pyramid Stage being used as a working dairy farm.
A Glastonbury-free festival season isn't putting a stop to the usual speculation around who will be performing next edition, however, and there are already several rumours in circulation. Michael Eavis said that the 2019 headliners will be "two or three [acts] that have never played".
A spokesman for ABBA recently issued a statement denying rumours that the band could headline the next edition of Glastonbury
[ad_2]