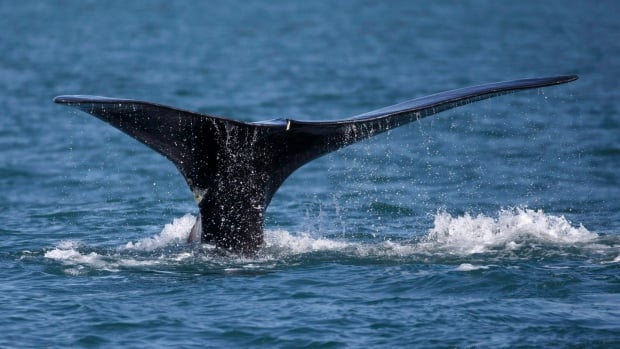 [ad_1]

The federal government announced Monday evening the first temporary fisheries closure in the Bay of Fundy as a result of a North Atlantic right whale sighting.
The area, just east of Grand Manan, will be closed to fixed-gear fishing activities starting at 11:59 p.m. Thursday, the Department of Fisheries and Oceans said in a statement. It said the closure, which affects lobster, crab, groundfish, herring and mackerel licenses, will remain in place until further notice.
The Grand Manan Basin is a critical habitat area for the whales.
ALERT ⚠️: New temporary fisheries measures will be in place next to areas temporarily closed to help protect North Atlantic <a href="https://twitter.com/hashtag/RightWhales?src=hash&amp;ref_src=twsrc%5Etfw">#RightWhales</a>. <a href="https://t.co/csvoyrJJUE">https://t.co/csvoyrJJUE</a> <a href="https://t.co/3P3KAVclJ4″>pic.twitter.com/3P3KAVclJ4</a>

&mdash;@FishOceansCAN
It's believed to be the first closure of its kind ever in the bay, according to Laurence Cook, chairman of the Grand Manan Fishermen's Association lobster advisory board.
Cook was busy fielding calls and texts from "angry and upset" members after government informed the association around 6 p.m. Monday, he said.
The association has been closely following the tension surrounding a series of closures in waters off northeastern New Brunswick after dozens of whale sightings in the area. Frustration is mounting with hundreds of fishermen concerned for their livelihood.
A map showing where the fishing area closures are located in the Gulf of St. Lawrence. (CBC )
Those sentiments are now being shared with their counterparts in the island community off New Brunswick's southern coast.
'It's a massive hit'
About 40 boats, roughly a third of the Grand Manan fleet, will be impacted, Cook said, estimating about 150 worker— on and off shore— could be affected as they enter the "most prosperous time of the season."
"The lobster is the engine that drives Grand Manan's economy," he said. "It's a massive hit."
Cook said he was holding his breath after a right whale was spotted off Grand Manan on Saturday.
The association argued its case with DFO officials in Dartmouth on Monday before Ottawa made the final decision. Cook said their unblemished track record to avoid harming whales fell on deaf ears.
In 2006, fishermen voluntarily developed a mitigation strategy to not disturb whales, he said. That involved reporting whale movements and modifying equipment to reduce the chance of entanglements.
"It isn't fair for the government to shut us down because crab gear 1,000 kilometres away killed two right whales last year," he said.
19 dead whales
Necropsies on seven of the whales that died last year showed four died of blunt force trauma from collisions with ships, while two more appeared to die from being entangled in fishing gear.
Since January 2017, there have been 18 deaths of North Atlantic right whales in U.S. and Canadian waters — 12 off the Canadian coast and six off the U.S. A whale carcass found last week in Virginia is the 19th.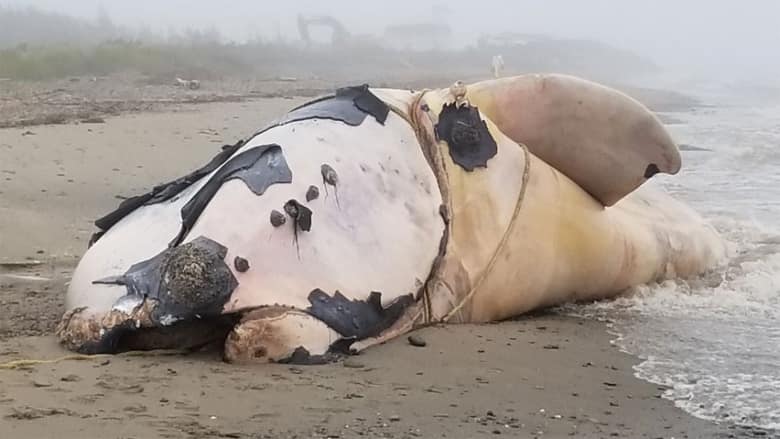 Last year 17 North Atlantic right whales died in Canadian and U.S. waters. Another two have been found dead off the U.S. coast this year. (Shane Fowler/CBC)
To date, there are only 100 breeding females remaining in a population of about 450 North Atlantic right whales.
Up to 75 right whales have been spotted in the southern part of the Gulf of St. Lawrence so far this year, officials said.
Since the beginning of the fishing season for lobster, snow crab and other species, the federal government has closed six fishing areas because of the presence of whales. More closures are scheduled to come into effect Thursday.
The fishery closure is just one of the measures taken by the department to try to save North Atlantic right whales. New rules also require ships to slow down in some areas.
Federal Fisheries Minister Dominic LeBlanc met with representatives of the Maritime Fishermen's Union in Moncton last Friday but did not agree to relax the closures.
[ad_2]