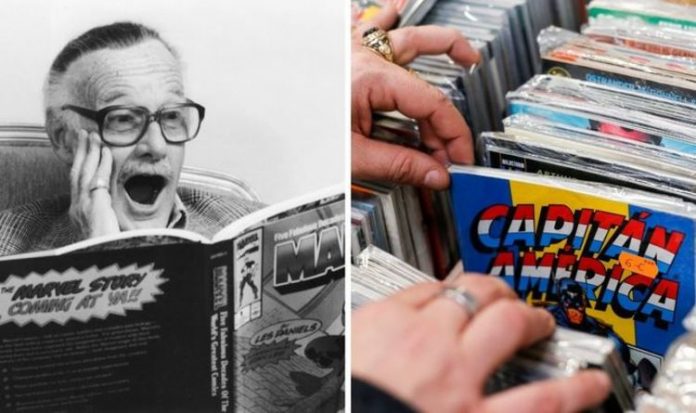 Marvel Comics has created some of the most famous superheroes in our culture. From Spider-Man to The Avengers, there have been some real classic heroes, as well as some smaller, lesser known superheroes doing good in the fictional world. But what does Marvel actually stand for, or what does it mean?
This question is an interesting one, and it depends when we start the timeline.
The first comic to be released under Marvel Comics was in 1961, an issue of The Fantastic Four.
However, that is not the first comic which was released by that company.
The company which later became Marvel Comics began as Timely Comics and was started by Martin Goodman.
READ MORE:  Ringo Starr illness: Why The Beatles star spent a year in hospital
The first comic to hit shelves was Marvel Comics, which was released in 1939, and featured The Human Torch, who later became a member of the Fantastic Four in later comics.
The third hero to come from Timely Comics was Captain America, who was later the leader of The Avengers when those comic books started in 1963.
Timely Comics continued to create superhero stories until in 1951, the name of the company changed to Atlas Comics.
They had few hits and were not jumping on the bandwagon of reviving superheroes, which rival DC Comics was having huge success with.
Further heroes such as the Sub-Mariner as well as Marvel Mystery Comics and Marvel Tales were released, until 1961, when the company became Marvel Comics.
Stan Lee and Jack Kirkby, who had already been working for Martin Goodman for some time, began making comics around superhero stories and launched The Fantastic Four to start with.
This was a big success, and they started creating heroes such as the Hulk, Thor, Ant-Man, Iron Man, the X-Men, Daredevil, Black Panther, Captain Marvel and the Silver Surfer, all of which received rave reviews.
The rest, as they say, is history, but how did the name Marvel actually come about?
DON'T MISS
According to Les Daniels' 1991 book about the Marvel Comics phenomenon, Timely Publications became the name under which Martin Goodman first published a comic book line.
He eventually created a number of companies to publish comics, but Timely was the name by which the so-called Golden Age comics were known.
Les writes: "Marvel wasn't always Marvel; in the early 1940s the company was known as Timely Comics, and some covers bore this shield."
Marvel Comics was one of the 'shell' companies which was created to publish comics from, and soon this became the brand which was most prominent in the company.
Martin sold the company in 1968 so they could make even more comics, which they were prohibited from doing under their previous arrangement.
He remained publisher but he left this role in 1972, as recorded in Les' book, at which point Stan Lee took over as publisher.
Now, Marvel is best known for its movie franchise, which has seen many of these iconic heroes brought to the big screen.
At the moment, many of these heroes seems to have stepped back from the cinematic limelight, however, with new heroes moving forward and getting their moment on the big screen.