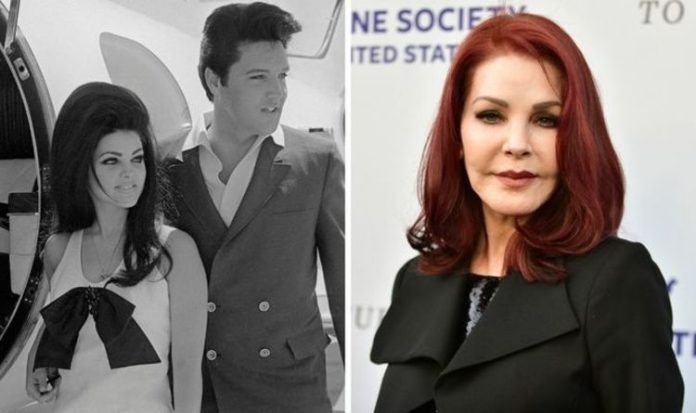 Priscilla Presley has had a long career in the spotlight, becoming known as Elvis Presley's girlfriend and then-wife. She was thrust into the limelight as a teenager when met Elvis and has remained as such even in the years after their divorce and his death. She has had two children throughout this time – but is Elvis father to both of the children?
Priscilla Presley has two children: Lisa Marie Presley and Navarone Garibaldi.
As the surnames of these children may suggest, they are not both born of Elvis, with only Lisa Marie being his daughter.
Navarone, on the other hand, is the son of Priscilla's long-term partner Marco Garibaldi, who were together for 22 years.
Navarone was born on March 1, 1987, meaning Elvis would have been dead for almost 10 years when the young musician was born.
READ MORE:  Ringo Starr illness: Why The Beatles star spent a year in hospital
In contrast, Lisa Marie was born on February 1, 1968, to Priscilla and Elvis.
Elvis has, as many would expect, just one child, as he did not have children with any other women than Priscilla.
Many have claimed to be the son of Elvis, however no conclusive DNA proof has been shared widely to suggest Elvis has any other children.
Lisa Marie went on to inherit all of Elvis's wealth: that which was left to her as well as the amounts left to her grandfather Vernon and great-grandmother Minnie Mae.
She has made music herself, following in her father's footsteps, but is best known for her celebrity marriages.
Lisa Marie married both Michael Jackson and Nicolas Cage at different points in her life, as well as Danny Keough and Michael Lockwood, with each of whom she had two children.
In later years Lisa Marie has been tied closely with maintaining her father's legacy, owning the estate at Graceland as part of this.
As for Navarone, he is also a musician, starting up Them Guns, an alternative rock band which Navarone has said was influenced by Nirvana and Nine Inch Nails.
DON'T MISS
They have played sold-out shows all over the world, The Viper Room and The Kings Head Club in Hoxton.
Despite being half-siblings, Lisa Marie and Navarone seem very close, with Priscilla recently sharing how the family is coping with the loss of Benjamin, Lisa Marie's son.
Lisa Marie's son Benjamin is reported to have taken his own life on July 12, 2020, at just 27-years-old.
Priscilla shared a post to Facebook where it became clear how Benjamin's loss was affecting Lisa Marie and Navarone, showing the closeness of the extended Presley clan.
Priscilla said: "These are some of the darkest days of my family's life. The shock of losing Ben has been devastating.
"Trying to put all the pieces together of all the possible whys has penetrated my soul. Each day I wake up I pray it will get better.
"Then, I think of my daughter and the pain she is going through as she was a doting mother. Ben's father, Danny, who is completely lost, as Ben was his only son.
"Riley [Benjamin's elder sister], so loving and so close to him; Harper and Finley, who absolutely adored Ben.
"Navarone [Priscilla's son with Marco Garibaldi], who struggles deeply with loss and death. Rest in Peace Ben, you were loved."