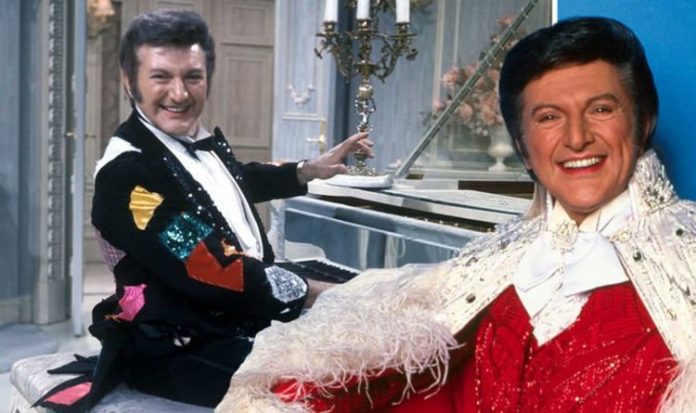 Liberace, full name Władziu Valentino Liberace, was at one point the highest-earning entertainer in the world at the height of his fame. He was performing in Las Vegas and all over the world from the 1950s and continued being in the public eye until his death. But how did he die and what was he famous for?
How did Liberace die?
Liberace died from pneumonia, which came as a result of AIDS on the late morning of February 4, 1987.
He died aged 67 at his home in Palm Springs, California, and gave little indication of his illness in interviews.
He was secretly diagnosed as HIV positive in 1985, 18 months before his death.
READ MORE: Buddy Holly death: How rock 'n' roll star's death inspired famous song
Liberace did not seek any medical treatment for his illness, and did not reveal his illness publicly, with only very close family members and colleagues knowing about his condition.
Before his death, on January 23, 1987 he was hospitalised for pneumonia, but went home four days later.
Liberace had a strong Catholic faith, and a priest administered the Last Rites to him on February 3.
On February 4, he died, but it was not for some time later that his true cause of death was revealed after the coroner examined him.
The autopsy revealed, while Liberace was also suffering from emphysema and other coronary diseases due to his chain smoking, his pneumonia was determined as having been brought on due to complications from AIDS.
Liberace was most famous for his piano playing, though soon his exuberant style became what he was most known for.
He was a virtuosic piano player, whose talent was evident from a very young age.
However, what was even more obvious was his flamboyant style, which he showed even in the early days of performing.
DON'T MISS
In the early 1940s, he had begun performing classical concerts, though he soon moved away from this style and played more pop alongside the classics.
By the mid 1940s, his style had completely moved towards showmanship being the most important aspect of his performance, and he began getting attention due to performing in hotel chains and nightclubs.
He moved to Hollywood and worked on making his performances even bigger, including elaborate costumes, big supporting cast and his signature candelabra, which he had next to his piano.
He also began playing in Las Vegas and was one of the early Las Vegas residency holders.
Eventually, one of his greatest aspirations came to fruition when he started hosting his own TV show, The Liberace Show.
His show appealed to millions of viewers, with broad musical selections like, show tunes, film tunes and even music from more exotic climes.
Liberace's career continued to develop over time, with his performing in TV roles, like providing a voice for the Adam West Batman cartoon, while he also continued to perform and live a lavish life of luxury as a celebrated performer.
He also acted in several movies, which meant he achieved another of his goals.
However, his final television appearance was on Christmas Day 1986 on The Oprah Winfrey Show and his final stage performance was at New York's Radio City Music Hall on November 2, 1986, around six months before his death.