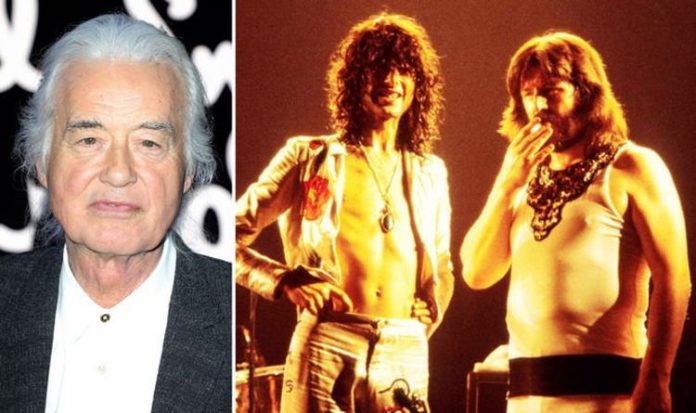 During their 1970s heyday, Led Zeppelin recorded and released eight studio albums. The band's final record before John Bonham's death was In Through the Out Door, but there were plans for a ninth. Now Jimmy Page has shared how he and drummer wanted to record a heavier rock album.
In a recent interview, Page said: "After the sessions for In Through the Out Door, John Bonham and I were discussing how we wanted to do a sort of more riff-based entity, and harder and trickier.
"And then, of course, I know what sort of drums he liked to play.
"He liked to play, like, really hard; he liked to play stuff that people heard it, they'd go, 'Wow, what's that?'"
The 76-year-old admitted that he likes to do that as well with the guitar parts.
READ MORE: Led Zeppelin: Jimmy Page's tribute to John Bonham 40 years after death
After sharing some memories from back in 1968, Page wrote a tribute to the late Bonham.
The 76-year-old said: "The opening track of Led Zeppelin I, Good Times Bad Times, changed drumming forever with the glorious technique of John Bonham.
"Sadly, this day is 40 years since his passing. He left a heroic musical legacy."
Following Bonham's untimely passing, Led Zeppelin released a statement on December 4, 1980.
With their drummer gone, Page, singer Robert Plant and bassist John Paul Jones had decided to disband out of respect for their drummer.
Led Zeppelin wrote: "We wish it to be known that the loss of our dear friend and the deep respect we have for his family, together with the sense of undivided harmony felt by ourselves and our manager, have led us to decide that we could not continue as we were."
Nevertheless, in 1982, Led Zeppelin released a rarities compilation album called Coda which featured a collection of unused tracks from a number of their sessions.
The band have also reunited four times since: in 1985 (for Live Aid), 1988, 1995 and 2007. John's son Jason Bonham played the drums on the latter three reunions.