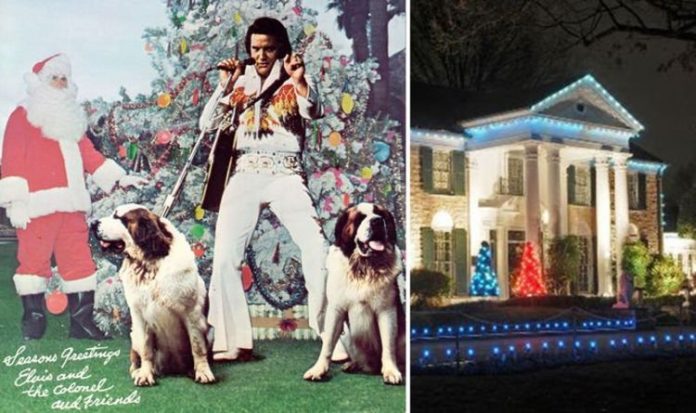 Elvis Presley was a big fan of the Christmas season and would have Graceland decorated in a very traditional way each year. In fact, the Memphis mansion still follows his wishes to this day for fans to see for themselves. And in a new video, Graceland archivist Angie Marchese has shared some fascinating facts about The King's house during the Christmas season.
Angie said: "Elvis loved Christmas. It was always such a magical time of year here at his beloved home here in Memphis.
"Each year the Graceland staff continues Elvis' same holiday traditions, such as changing the drapes from blue to red.
"Putting up Christmas trees in almost every room and even using the same lawn ornaments to decorate the outside of the mansion."
Interestingly, The King kept the Graceland Christmas decorations up beyond Twelfth Night.
READ MORE: Johnny Cash's son on The Man in Black's friendship with Elvis Presley
Angie revealed that Elvis would leave them up until his birthday on January 8, so just a few days after the traditional date of taking them down.
To this day Graceland holds an annual Christmas lighting ceremony.
The Elvis expert said: "Over the years, a number of special guests have helped us kick off the holiday season at Graceland and have had the privilege of turning on our Christmas lights."
Angie then introduced the rest of the video which featured the best of Graceland's Christmas lighting ceremonies.
A statement by Graceland reads: "This year, guests visiting Graceland on December 1-20, can enjoy special Graceland Christmas tours daily from 2:00 pm to 4:00 pm.
"Our Graceland Christmas tours will feature live tour guides throughout Graceland mansion sharing stories about what it was like to spend Christmas at Graceland with Elvis, and guests will be surrounded by the beauty of Elvis' traditional holiday decorations, both inside and outside Graceland mansion.
"In addition, the Graceland mansion tour will feature special holiday displays direct from the Graceland Archives."
Elvis' Memphis mansion has been lit up in a variety of different colours this year.
Back in October, Graceland was lit up pink for Breast Cancer Awareness month.
While in March, Elvis' home closed its gates for two months for the first lockdown.
But despite this, Graceland showed a patriotic "sign of solidarity", which fans could view through a live cam.
Graceland was lit up in red, white and blue; the colours of the American flag.