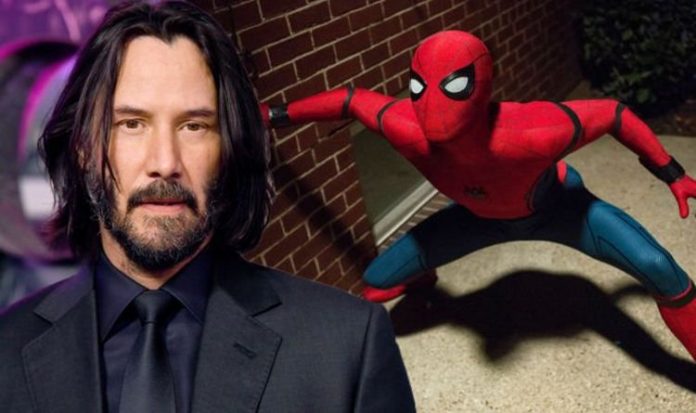 Keanu Reeves is best known for his work in the John Wick series and for playing Neo in The Matrix trilogy. It might not be long until viewers start to recognise the 56-year-old actor for being in the Marvel universe, battling it out with Tom Holland on the big screen. 
The latest spin-off movie from Sony is going to be based on Kraven the Hunter.
Kraven is a renowned big-game huntsman who has battled Spider-Man throughout history in order to prove he is the world's greatest predator.
According to a new report Reeves has "officially been offered the role of Kraven the Hunter in his own solo film".
The report adds that the offer is currently in Reeves' hands and Sony are awaiting a response.
READ MORE: Spider-Man 3 theory: Doctor Strange villain will unite Spider-Men
The new spin-off movie is being simply referred to as "Kraven" and will follow the tone and action of such movies as Logan and Man On Fire.
The antihero is best known in the Marvel comic books for trying to track down and claim Spider-Man as one of his big-game trophies.
However, in the past he has also teamed up with the hero to take on common enemies, especially ones that threaten the nature of wildlife or the environment.
Kraven will join the other Spidey villains in Sony Pictures' growing cinematic universe, which is still separate from the official MCU.
Kraven follows Venom, which came out in 2018 and broke box office records for an October release, as it garnered a staggering $856 million.
The film was praised for the special effects used to bring the titular symbiote to life, as well as the performance delivered by British actor Tom Hardy.
The hit's sequel Venom: Let There Be Carnage is due for release on June 25, 2021.
Next year another Spider-Man villain is arriving on the big screen: Morbius.
Morbius, the comic book vampire, is another Marvel antihero who is best known for battling Spider-Man.
The blood-sucker is being played by Jared Leto, the 30 Seconds to Mars lead singer who recently turned his hand to acting to star as the Joker in Suicide Squad.
Interestingly, the film is poised to blur the lines between the MCU and Sony's Marvel Universe.
The trailer for the Morbius movie shows the arrival of Adrian Toomes / Vulture, played by Michael Keaton.
Keaton featured in Spider-Man's first solo movie – Spider-Man: Homecoming – meaning Morbius will begin a relationship with Peter Parker in the coming movies.
The debut Morbius film is due for release on January 21, 2022.
Kraven has no release date or plot details at the moment, but is expected follow the story of the famed graphic novel: Kraven's Last Hunt, wherein the hunter tries to kill Spidey once and for all. 
The Spider-Man films are available to watch on Amazon Prime Video now.
READ THE ILLUMINERDI REPORT